Break Out the Grecian Formula
by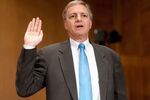 "We're very cognizant of the returns our shareholders get vs. what our employees get. Compensation will probably be the primary target for additional cost reductions. The bank will add junior employees and will try to strike a balance to avoid losing talent."
—David Viniar, chief financial officer, Goldman Sachs Group, "Goldman Sachs Cuts Pay as Revenue Drops to Lowest Since 2005, Bloomberg News, Michael J. Moore and Christine Harper, 17 July 2012, 11:53 AM ET
Weak economy? Financial distortion? Let's blame the Red Sox. Choose your Why? It does not matter. Expenses will and shall be reduced.
The Moore and Harper math is an $11,873 difference in average (exactly what does average mean on global Wall Street?) year-over-year compensation.
Sum 40 percent AMT-affected taxes, Ignats's third week of hockey camp(go Riley clan!) and payments 24 through 37 on the picnic boat and it's a rounding error.
Trust me, Tribe Goldman Sachs, the rest of smart, ready-to-work Wall Street is not complaining about an "average" $12,000 gross hit to wallet.
There is one small matter in the above, and soon to be oft-repeated and oft-executed, quote.
"… add junior employees …."
I suggest Mr. Viniar suggests "subtract senior employees." Break out the Grecian Formula. Discuss.
Before it's here, it's on the Bloomberg Terminal.
LEARN MORE