Arctic Dispatch: The Journey Begins
Collin West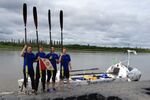 Editor's Note: Collin West is part of a team, including MBA graduates from Northwestern's Kellogg School of Management and Wharton, attempting to cross the Arctic Ocean in a rowboat to raise awareness of global warming. He is blogging about his experience on the Arctic Row team for Bloomberg Businessweek.
July 17, 2012
The real accomplishment is getting to the starting line. Ever heard that? My teammate, Paul, has been repeating this mantra since we dreamed up this wild goal two years ago. Since then, our team of four's collective life has been consumed with getting here, the starting line, accompanied by a boat prepared to carry us across the Arctic Ocean. Today we made it to the starting line and departed on our voyage at 1:39 p.m. MT—finally!
Looking back, we worked on this project for months without telling a single soul. I think this was partly because we weren't sure if it was actually possible and partly because it sounds so wild that we thought people would laugh at us. My girlfriend (now wife) didn't even know about this row for quite a while. And for all you men out there, keeping this sort of thing from your lady is not recommended (!). In fact, it was really scary to tell people about this project, because it is so far away from the established norm—especially for us MBA types. But once we finally had the Arctic Row project to a point that we thought it was doable, our friends and family really supported us, and people came out of the woodwork to help us make this dream a reality.
Of course there were others who discouraged us from undertaking this expedition. Some didn't think the perceived danger was worth the experience of accomplishing a true "first." Others, I'm guessing, just really didn't understand the explorer DNA most of us have deep within us. There are nice parallels here with building a new business. This is a fact: Nothing new and uncharted ever came easy and without doubters. It takes encouragers, like a solid group of friends or family, vision, and comfort with uncertainty to achieve success. I had the hardest time learning the uncertainty part. Like most people, I generally want to know the answer before asking the question, but in expedition planning this rarely happens. For example, right now we are rowing 70 miles through a storm in the third largest delta in the world to reach the Arctic Ocean. (You can check our location here.)
This delta is like the Louisiana bayou with a mix of mazes and dead ends—not exactly what you want to paddle around in on an ocean rowing boat because we could get stuck in shallow water or even get lost. We arrived in Inuvik without knowing what path we would take to the Arctic Ocean because we knew we could depend on the Inuit people and small local Coast Guard office to teach us about the delta in person on arrival. This is something one of my favorite Kellogg leadership professors, Michelle Buck, calls living in the questions and looking back on the answers. As I learned to deal with the uncertainty, as many entrepreneurs do as well, we at least made it to the starting line.
Well, my next two-hour shift is up, but here are some quick observations I'll leave you with:
• Right now we are actually rowing along the river that, once frozen in winter, is the ice road famed by the History Channel show Ice Road Truckers that goes to Tuktoyaktuk.
• We rowed past a beaver that flapped its tail at us a few times. I'm assuming he wanted us out of his territory, so we kept on our way.
• A seal with a white coat (Arctic Seal? Forgive me but I don't have a way to look these questions up online) started to follow us down the Mackenzie River and seemed very curious, darting around our boat to sneak peeks at us. I'm pretty sure even he knows we're up to no good.
• We have been rowing for six hours and it has already rained four times. I hope this isn't a sign of what is to come ….
Join the discussion on the Bloomberg Businessweek Business School Forum, visit us on Facebook, and follow @BWbschools on Twitter.
Before it's here, it's on the Bloomberg Terminal.
LEARN MORE