America's Most Promising Social Entrepreneurs: 2012 Winners
By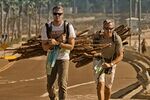 For our fourth annual roundup of promising social entrepreneurs, we asked readers to submit suggestions, narrowed them to 25 for-profit social enterprises, then asked readers to vote for their favorite. Over the past month, more than 7,500 readers cast their votes. Their top five picks follow:
1. The Paradigm Project, which sells clean-burning wood or charcoal cookstoves in Kenya and Guatemala, received the most votes, 15.8 percent. Co-founder Gregory Spencer says the Colorado Springs company hopes to sell 5 million by 2020. U.N.-sanctioned auditors document how much emissions the stoves save; Paradigm sells the carbon offsets the auditors award it.
2. Selling surplus goods for school districts and public agencies on EBay, InterSchola turns unwanted assets into cash. The San Francisco business takes a cut of about 35 percent; the school or agency gets the rest—about $15 million over the past eight years—"for stuff they were previously paying to have hauled away as trash," says founder and President Melissa Rich. It got 12.6 percent of the vote.
3. Sseko Designs helps poor women in Uganda with academic promise earn money to pay for university. The Portland (Ore.) business teaches participants how to sew; after working for a nine-month stint at its factory in the capital city of Kampala, they leave with enough money to attend the first year of school, according to founder Liz Forkin Bohannon. Sseko landed 8 percent of the vote.
4. Buildings account for about 40 percent of U.S. energy consumption, but relatively few are being overhauled to make them more efficient. "The problem is, today it's an extremely manual process" to find potential energy savings in existing structures, says Retroficiency founder and Chief Executive Bennett Fisher. His Boston company, which received 6.2 percent of the vote, makes software that crunches data to do just that.
5. InVenture helps microfinance borrowers track their income and expenses and report the data to lenders through text messages. That helps lenders develop credit scores and manage their risk. Over time, borrowers get better loan terms and will be considered bankable, says founder Shivani Siroya. The Santa Monica (Calif.) business got 6 percent of the vote.
For more on these and other social entrepreneurs, read our profiles.
Before it's here, it's on the Bloomberg Terminal.
LEARN MORE