So You Married a Criminal: Perils of the 'Innocent' Spouse
By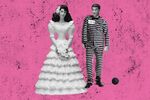 Elizabeth Butler is no Ruth Madoff. Every morning, she gets up and goes to work as an executive assistant in Manhattan. She can walk down the street without being recognized or scorned. Like Madoff, though, Butler also happened to marry a man who turned out to be a crook.
Eric Butler is a former Credit Suisse Group broker who was convicted of misleading clients about risky auction-rate securities in order to generate higher commissions for himself. He duped them into believing the instruments were backed by federally guaranteed student loans, rather than risky debt and subprime mortgages—a fact that became clear to those clients after they lost almost $1 billion when the market collapsed. Butler is now serving five years in prison while his wife works and raises their 5-year-old son.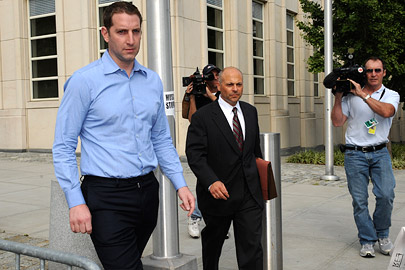 The problem, it seems, is how the Butlers handled their money. As my Bloomberg News colleague Christie Smythe reported on July 17, Elizabeth maintains that she viewed her husband's accounts at such institutions as Charles Schwab, JPMorgan Chase, and Morgan Stanley as joint accounts in which she would deposit and withdraw funds, using Eric's PIN numbers. The government maintains that those were his accounts alone, making the assets fair game to seize in order to help pay the $5 million fine and $250,000 forfeiture order that were part of the conviction. Which version reflects reality is something the U.S. District Court in Brooklyn will ultimately decide. But it raises interesting questions about the assumptions and practices of how couples handle their assets.
Start with the fact that the Butlers are still married. That's a key point in the government's response to the Butlers' objection. Ramon E. Reyes Jr., the federal magistrate judge who drafted the response, noted in his filing that a spouse who's not legally listed as an owner can't claim any rights to an asset unless a court gives him or her that right "as an ancillary remedy to the dissolution of a marriage." In short, she would have had to get some of that money in a divorce. Then again, had the Butlers immediately divorced or moved assets under her name, that might have looked even dodgier to prosecutors.
It's been 14 years since the Internal Revenue Service was reformed to give an "innocent spouse" more protection against being saddled with a partner's tax debt. (Filing a joint return puts both people on the hook for all taxes owed.) On July 14, the IRS lessened the requirements for seeking such relief from liability.
But taxes and criminal sanctions are two different matters. With the IRS, the issue is whether you should be spared the burden of paying your guilty partner's debts. In a criminal case, the issue is whether the government has the right to tap into an innocent spouse's assets to pay restitution or fines. In many cases, the answer is yes. Whether or not Ruth Madoff knew of her husband's Ponzi scheme, his victims clearly had a claim on assets bought with ill-gotten gains.
In fact, seizing assets has become such a routine part of convictions—generating more than $1 billion a year—that the Department of Justice has its own website (forfeiture.gov) and is completing the implementation of its first National Asset Forfeiture Strategic Plan. As former Assistant Attorney General Alice S. Fisher stated when the four-year plan was launched in 2008: "Today, there is legal authority to forfeit the proceeds of virtually all serious offenses including terrorism, drug trafficking, organized crime, child pornography, alien smuggling, human trafficking, white-collar crime, and money laundering. The National Asset Forfeiture Strategic Plan seeks to develop and implement policies and procedures to ensure that asset forfeiture is an integral part of every investigation and prosecution."
So where does that leave Elizabeth Butler? That's for a court to decide. According to government filings, her net monthly pay is $4,984 and her rent is $3,295 per month. She received more than $240,000 from the sale of the Butlers' co-op apartment in Manhattan. Those who were duped into buying auction-rate securities by her husband might think that's more than enough for her to live on. If she did treat her husband's account as being tantamount to her own, though, it's another reminder of the perils of having your assets—and your financial fate—in the hands of someone else.
Before it's here, it's on the Bloomberg Terminal.
LEARN MORE