RIM Throws a PlayBook Party, But the PlayBook's an Afterthought
Meghan Walsh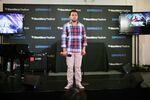 On my way to a promotional event thrown by Research In Motion at Manhattan's Chelsea Market, I stopped for a late lunch. With veggie wrap in hand, I sat at a long table near a young man who looked to be in his mid-20s. He was wearing a black Polo shirt bearing a white BlackBerry emblem—and was slouched over an iPhone. (Full disclosure: He did at one point pull out a BlackBerry for about three seconds.)
I asked if he was working at "Meet the PlayBook," a two-week long extravaganza aimed at familiarizing potential customers with the BlackBerry PlayBook tablet. He replied, "Yes. You should come check it out. There's going to be free drinks and fried chicken."

Free food and booze is enough to attract a crowd anywhere. But if that weren't enough, there was also the chic, lounge-like atmosphere, ongoing giveaways, and, on this night, a famous DJ to help pull in the odd passerby. The display (it's not part of a larger campaign) will run through July 23 and each day will feature a different theme, from music to health to food.
The question that remains, however, is whether complimentary hors d'oeuvres will persuade people to pick a PlayBook over an iPad or Amazon's Kindle come purchase time. "A lot of people may have never handled a PlayBook," RIM spokeswoman Patti McKague says. "This is a chance for them to have a hands-on experience."
The Canadian electronics maker released the PlayBook in April 2011, but the mini-tablet has struggled to gain traction with consumers or make a dent with competitors, selling only 1.3 million in its fiscal year 2012, which ended March 3. (By contrast, Apple sold 32.4 million iPads last year). With a 7-inch display, the all-black device is the same size as Google's Nexus 7. But until the 2.0 operating system came out in late February, PlayBook lacked standard features such as e-mail and a calendar. The company has dropped its PlayBook price to $199, putting it in line with the Kindle Fire and Nexus 7. RIM share prices have steadily been declining, from $56.08 a share in August 2011 to a closing price of $6.92 on July 17.
I asked McKague how many people she estimated had stopped in. She declined to give a number, but while I was there (for roughly 90 minutes), there were about 15 people at any given time—most of them nowhere near a PlayBook. Workers said it had been busier over the weekend. Saturday featured a chef-to-chef showdown with complimentary low-calorie cocktails, followed by ice cream and show ticket giveaways on Sunday.
But the correlation between the attractions and the PlayBook seemed to get lost. While the DJ attracted a small group of teenagers with a demo on the turntables, at no point was there a pitch for Pacemaker, an app that teaches users to mix beats on the touchscreen. Several attendees, sipping flavored water and lounging on a couch, specifically said they were there for the free stuff.
RIM was successful in securing at least one new customer. Tony Adegoke purchased a new PlayBook after stopping in last week. The 43-year-old BlackBerry owner said that prior to the event he wasn't impressed by what he'd heard of the device, but he has since become a believer. "It does a lot more than what I thought it could do," Adegoke says. "I find it to be very business conducive."
From my own demo, I found the Print To Go app convenient. With one click, users can send a document, presentation, or pdf from their desktop to the PlayBook, which stores it in an electronic file folder. The software also makes it easy to swipe between open apps.
Still, I can't help but wonder whether that BlackBerry worker so absorbed by his iPhone would pick a PlayBook over an iPad.
Before it's here, it's on the Bloomberg Terminal.
LEARN MORE