MBA Program Gives Military a Fighting Chance
Francesca Di Meglio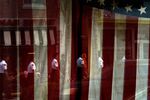 If you're a returning military veteran with business school aspirations, now is a good time to be you. A number of schools, including Dartmouth College's Tuck School of Business and University of Notre Dame's Mendoza College of Business, are scrambling to recruit ex-military types, offering them a break on tuition or special programs tailored to their needs. Now one B-school is trying to recruit vets before they become vets—ahead of the dog tags, crew cut, and first day of basic training.
The program at Indiana University's Kelley School of Business allows graduating ROTC students from the university to apply to the MBA program before fulfilling their four-year to five-year commitments to the Army.  If accepted, their spots are guaranteed until their tours of duty are complete.
"This is a way for us to reward and provide opportunities to people with incredible focus and thinking skills," says Lt. Col. Michael Ogden, professor of Military Science in the Army ROTC at Indiana University.
Those graduating seniors who think they might want to pursue a Kelley MBA, post-military service, need only apply as any candidate would. Because they are younger than traditional applicants, the school looks for leadership potential demonstrated during their four years of college and in ROTC, as opposed to work experience, says Ray Luther, director of recruiting and leadership for the Kelley MBA. While the school would like to see all the veterans return, accepted applicants are under no obligation to enroll. They are free to change their minds and continue with military service or head directly into the workforce when their required service is completed.
Although the first group of students is applying now, they will not even begin to study for at least a further four years. So far the school accepted two students, and there are about 10 solid candidates  who have shown interest, says Ogden.
While the numbers are small, this recruiting effort is meaningful and important to the university, says Luther, himself both an alumnus of ROTC and Kelley. "We're showing we're veteran-friendly and that veterans can be comfortable and successful here," he adds. "We partner with them at all stages."
There's something else in it for the school. Military vets have a legacy of being successful campus leaders who shine during recruiting season and again when they enter the corporate world, says Luther. The school hopes to attract more of them. "Young junior military officers have leadership experience and emotional intelligence that are beyond their peers," he adds.
In fact, the Kelley School is looking to extend the program to the Air Force on campus. Also, it may consider opening the admissions process to ROTC groups at other universities.
Join the discussion on the Bloomberg Businessweek Business School Forum, visit us on Facebook, and follow @BWbschools on Twitter.
Before it's here, it's on the Bloomberg Terminal.
LEARN MORE