How to Run Late for a Meeting in Style
by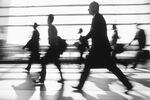 Last year, serial investor Bill Lee took 200 meetings at the St. Regis Hotel in San Francisco. People would inevitably run late for their appointments and begin sending a stream of updates about their expected arrival times. The whole process got Lee thinking that there must be a better way to coordinate meetings.
On Wednesday, Lee revealed his answer—a new app called Twist that will initially run on the iPhone and later on Android devices. With Twist, you can identify which people are associated with a meeting, and your smartphone will track your location and automatically send alerts to those parties—be they professional or personal—via text messages and/or e-mail if it looks like you're going to be late. "It seemed to me like a lot of wasted time and a big problem," says Lee, who will serve as chief executive officer of Twist.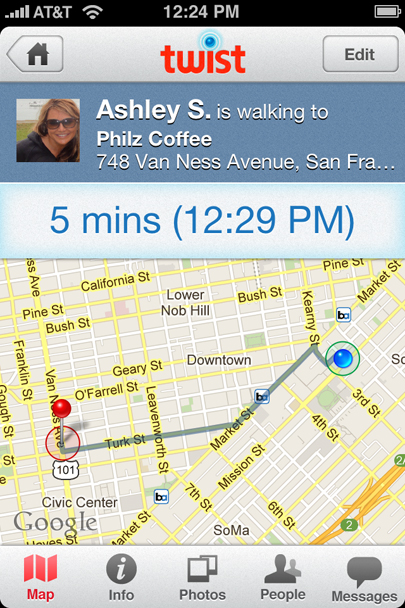 The work behind Twist began about a year ago, when four guys took the initial stab at trying to figure out how to mix real-time traffic data with the tendencies of individuals to come up with inaccurate predictions of arrival times. "There are granny drivers and lead foots," says Mike Belshe, the co-founder of Twist and a former Chrome engineer at Google. "We try to add these speed profiles with path changes and the real-time data to get an ETA that works."
You get to pick which people will be alerted to your position on a meeting-by-meeting basis, and they only receive messages if it looks like the meeting will be delayed. The text messages say things like, "Amy's ETA is 9:25 a.m. to 9:35 a.m." and then provide a link to a map where you can follow her position. A last note arrives when the person is very close, saying "Amy is arriving in about a minute."
Lee made his first fortune back during the dot-com boom through Remarq, a corporate messaging specialist that he founded and sold to Critical Path for $265 million. He's gone on to be an angel investor in Silicon Valley, pumping money into Yammer, which Microsoft just bought for $1.2 billion, and Tesla Motors, among many others. As we noted last month, Lee was also just granted a patent on the virtual happy hour.
Twist seems to be Lee's first step toward a grander vision. "I see a kind of magical calendar that will look at your appointments and tell you how much time you need to get to them," he says. Up to 20 percent of the U.S. population is consistently late to meetings, he adds. He also points to Harris Interactive data that blame traffic for 53 percent of the late arrivals and underestimating travel time for 38 percent of the late arrivals. "There are lots of companies doing social, mobile, and location apps, but we think there's a fourth dimension which is time, and we will pioneer this space," Lee says.
Twist has raised $6 million to date and employs 15 people, most of them engineers. Its app will be free for the time being, and, in fact, the company is not revealing any type of business model yet.
Before it's here, it's on the Bloomberg Terminal.
LEARN MORE