Democrats in Congress Gleefully Chase Romney's Tax Havens
By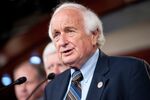 Here's one reason why Republicans have started calling on Mitt Romney to release his tax returns: Democrats in Congress can make hay about his refusal in a way that puts their Republican colleagues in an awkward spot. On Wednesday morning, two Democratic senators, Dick Durbin of Illinois and Carl Levin of Michigan, took to the Senate floor to push their suggestively named "Financial Disclosure to Reduce Tax Haven Abuse Act." Wonder whom they could be targeting?
In the House, Rep. Sander Levin, the Michigan Democrat who is ranking member on the Ways and Means Committee (and Carl's older brother), announced that he is preparing similar legislation. It does not yet have a sweet name like the Senate bill, but it probably will soon. Both bills would force candidates and their spouses to reveal the location, value, and economic purpose of offshore accounts in countries deemed to be tax havens.
Rep. Levin's bill would also force presidential candidates to disclose a decade of tax returns; the proportion of their income that derives from carried interest; the details of any ongoing compensatory arrangement; and submit to what amounts to a colonoscopy of their IRAs and 401(k)s.
Despite appearances, Rep. Levin told me, this isn't all about Romney. "There needs to be full disclosure," he said. "We need to make sure that presidential candidates, who up till now have been acting voluntarily and in most cases responsibly, provide this information. If you look at what's required under the '78 law"—the Ethics in Government Act of 1978 currently governs what candidates must reveal—"it's clearly inadequate."
Mind you, this isn't to say that Romney is an innocent party to the proceedings. "Governor Romney should do the right thing now and release this information," Levin told me. "What we know so far has raised questions about all of these areas." He pointed out that Congress is all but certain to take up the issue of tax reform after the election, so exploring these issues isn't simply a political ploy.
Still, as a political ploy, it's a pretty good one. Levin's bill won't get far in a House controlled by Republicans. But in the Senate, which Democrats control, a vote on the Financial Disclosure to Reduce Tax Haven Abuse Act could force Republicans into the lousy choice of embarrassing their presidential nominee or voting "for" tax havens (or perhaps filibustering the tax haven bill, which is nearly as bad), which they would presumably be loath to do.
And the catalyst for all this would be their own standard bearer, whom most House Republicans aren't all that thrilled about to begin with.
Before it's here, it's on the Bloomberg Terminal.
LEARN MORE