Cities Needing Highly Skilled Workers Aren't Training Them
By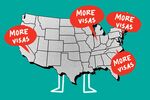 Silicon Valley companies have long been the most outspoken protestors against the U.S. caps on visas for highly skilled foreign workers. The arbitrary caps, they say, have prevented them from filling jobs that they cannot find qualified Americans to perform. Yet it's not just the high-tech hubs; heartland companies—in such places as Columbus, Ind., Bloomington, Ill., and Fayetteville, Ark.—are professing the same problem.
This is one finding of a study published Wednesday by the nonpartisan Brookings Institution. The study is the first examination, by city, of the demand for H-1B visas for highly skilled foreign workers.
Brookings fellow Neil Ruiz says that demand for visas outpaces supply by a huge margin. He estimates that there are about 300,000 requests annually for just 85,000 H-1B visas, which are issued on a first-come, first-served basis starting in April. (The government does not publish request data, so Ruiz combed through application forms submitted to the Department of Labor).
Even though metropolitan areas such as New York, San Francisco, and San Jose, Calif., submit the highest numbers of requests, Ruiz finds intense demand for visas in less expected parts of the country. After Silicon Valley, such cities as Columbus, Ind., Durham, N.C., and Trenton, N.J., top his list of metro areas with the highest "demand intensity"—the ratio of H-1B requests to the total number of jobs in the metro area. Columbus, for example, has become a clean-tech hub in recent years, led by engine manufacturer Cummins, while Trenton has biotechnology jobs, thanks to New Jersey's pharmaceutical industry.
"The growth of H-1B demand in these metros demonstrates that some small metropolitan areas are using temporary workers to address what they see as a lack of high-skilled labor in the local marketplace," Ruiz writes.
This observation shouldn't be taken to conclude that companies are seeking temporary workers because they've already tapped out the qualified local labor pool. Ruiz was not able to draw a conclusion on that vexing policy question.
To obtain an H-1B, companies must certify that they tried to recruit qualified U.S. citizens but couldn't find them; there is no enforcement mechanism, however, if a company lies about this. For example, in Columbus, Ruiz's No. 2 spot for demand intensity, the unemployment rate for people with a bachelors degree or higher was only 3 percent in 2010. But in the Silicon Valley hub of San Jose, unemployment for highly skilled Americans was much higher, at 7.2 percent in 2010. (The study uses 2010 Census data for consistency).
For the most part, it's not really cheaper for companies to hire a foreign worker over an American. Under H-1B rules, companies still have to pay the worker benefits and a wage comparable to American counterparts, in addition to relocation costs.
Perhaps the most eye-opening finding in Ruiz's study relates to the fees that companies pay the government in exchange for the visas. When Congress created temporary visas for highly skilled foreign workers, the fees for the visas were intended to pay for programs to train Americans in those skills, particularly engineering and science. The government distributes these training fees in the form of grants to metropolitan areas, a process unrelated to visa requests.
So one would think that areas where companies make lots of visas requests would also receive plenty of government grants. But Ruiz found just the opposite: The cities getting the most government money to train U.S. workers in engineering and science actually have very few jobs in those fields. For example, San Jose requests more H-1Bs than anywhere else but received only $3 million to train Americans over the past decade. Wichita, Kan., which ranks No. 101 in the Brookings visa demand list, got twice that amount.
Cities that need highly skilled workers, according to Ruiz, don't seem to be making much of an effort to train their citizens for the demands of the local market. Ruiz writes that training funds "have been disproportionately distributed to metropolitan areas with a relatively low demand for H-1B workers." And he has this message for policy makers: Target money to areas where there's a high demand for H-1B workers.
Before it's here, it's on the Bloomberg Terminal.
LEARN MORE