pursuits
At London Games, a New Record for Doping Tests
By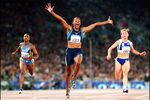 As the world's gladiators converge on London for the 2012 Olympics, athletes are preparing to face tests of their endurance, strength—and urine.
Antidoping organizations are promising the fairest Games in history, with more tests and an updated list of prohibited drugs. "The message to athletes is loud and clear," says Dr. Matthew Fedoruk, science director of the U.S. Anti-Doping Agency (USADA). "They shouldn't show up [at] the Games and be doping because they'll be caught."
The Olympics has a long history of cheating and knocking down the star athletes who get busted. Canadian sprinter Ben Johnson lost his gold medal for the 100-meter dash during the Seoul Olympics in 1988 when he tested positive for the anabolic steroid stanozolol. During the 2000 Sydney Games, Marion Jones of the U.S. won five medals in track and field but later had to forfeit them when she was found to have used performance-enhancing drugs. She also served six months in prison for lying to investigators.
This year's Olympics will be the most screened ever, with 5,000 tests planned for all medalists and about half of all athletes during the Olympics, plus an additional 1,250 tests during the Paralympic Games. The number of tests (PDF) at the Summer Games has increased over the years, up this year from 4,770 performed at the 2008 Beijing Olympics, where there were 25 positive tests, including six horse-doping cases. There were 2,149 tests with one positive at the 2010 Winter Games in Vancouver. (On average, there have been more tested athletes and more positive cases recorded during summer Games than winter.)
Drug detection is so tough for this year's Games that antidoping anxiety is taking hold of intentional drug users and accidental dopers alike. The Chinese volleyball team made news for not eating meat to prevent accidental positives from clenbuterol-tainted pork, lamb, and beef, and then arguing the meat-free diet was hurting their performance. (At the 1992 Barcelona Games, a Chinese volleyball player was disqualified because of a positive test for a stimulant.) The U.S. Anti-Doping Agency, which is authorized by Congress to oversee U.S. Olympic athletes' compliance, warned soccer goalie Hope Solo about testing positive for a diuretic in her prescribed premenstrual medication.
The World Anti-Doping Agency (WADA), which monitors the antidoping efforts at the Olympics, has updated the official list of prohibited drugs each year since 2004. Some, like caffeine, have been removed from the list over time, with more added in nine categories, including anabolic agents, stimulants, and growth hormones. Alcohol is prohibited for a few of the more dangerous sports, including archery.
Testing quality has improved at the same time athletes have become more creative at evading tests, says David Howman, WADA's director general. Over the years, athletes have gone to extremes to cheat, from ancient Greek Olympians eating sheep testicles for a testosterone boost to, more recently, athletes concealing bags of "clean" urine for tests or injecting their bladders with fresh urine to avoid being caught. Róbert Fazekas of Hungary was stripped of his gold medal for the discus throw at the Athens Olympics in 2004 for using someone else's urine and sidestepping tests, and his teammate Adrián Annus was suspected of using similar tactics and lost his gold medal in the hammer throw for refusing a drug test. In advance of this year's Olympics, Fazekas, who was suspended for two years, tested positive for a banned substance and now faces a life ban.
"The sophisticated doper is getting more sophisticated," Howman says. "The dopey doper will be caught."
Catching dopers will be the work of the 1,000 staff on call, 24/7, at the Olympic screening facilities about 45 minutes north of Olympic Park, in Harlow, England. Scientists from King's College London will perform the tests—more during the Olympic and Paralympic Games than they would normally run in a year. GlaxoSmithKline, the U.K.-based global pharmaceutical giant, will provide the lab and equipment for testing, the first time a private company has been part of the process. Glaxo is contributing the facilities in exchange for being a sponsor of the Games.
Glaxo can make the testing for the Olympics an industrialized process, says Alex Harrison, a company spokeswoman. "We're able to provide the expertise required with the ambition to make it the cleanest Games possible."
Glaxo signed an agreement with WADA in 2011 to supply the agency with confidential information about medicines in early stages of development that could be abused by athletes. "We're committed to stopping the cheats," Harrison says. "There's nothing more disappointing than to hear that our product's been abused." WADA has similar arrangements with multiple pharmaceutical companies. For example, Roche Holding worked with WADA in 2008 to develop tests for its drug CERA, an erythropoietin that boosts red blood cell count and oxygen uptake. After the Beijing Olympics, blood samples were retested for the drug, and six athletes tested positive.
Why do athletes continue to dope? Some feel pressured to use drugs to gain an edge, says Dr. JoAnn Dahlkoetter, a sports psychologist in San Carlos, Calif., and author of Olympic Thinking. "The goal used to be to discover your genetic limits and work hard to achieve them. Now the goal is to discover those limits, then change your genetics," Dahlkoetter says. Athletes also don't often realize the effects, which range from having to relinquish their medals to long-term health issues, says Dahlkoetter, who has worked with athletes in the past five Olympic Games.
Informing athletes about the nuances of drug testing is part of the job of antidoping agencies such as USADA and WADA, says Fedoruk, who ran the lab at the Vancouver Olympics. Deterring drug users is just as key as detecting them. And athletes, who "carry the responsibility on their shoulders to not let their country down," must lead the charge in demanding fair Games, says Howman, WADA's director.
"As far as antidoping people are concerned, the best rules we can dream up with the help of the world are in place," he says. "The responsibility rests with the athletes to come along and not cheat."
Before it's here, it's on the Bloomberg Terminal.
LEARN MORE