Remodelers Aim for Aging Boomers
By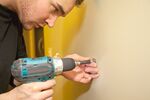 As the oldest boomers turn 65 at a rate of about 10,000 a day, their homes can challenge stiff joints and waning eyesight. A Harvard University study suggests recovery in the remodeling market will be driven in part by contractors making improvements to help individuals go about their routines within their own homes. So-called age-in-place retrofits should provide a "particularly strong" source of business for the 650,000 remodelers in the U.S., two-thirds of which are one-person ventures, according to the report.
Of course, persuading homeowners to plan long term for aging isn't easy. "Most people are hesitant to admit they need to be thinking in this way, so we definitely battle that," says Bill Millholland, executive vice president of Case Design/Remodeling, a $28 million business with 175 employees in Washington, D.C., and 11  franchise locations nationwide. "Nobody wants their home to look like a hospital facility." Although several staff members have received specialized training in the principles of age-appropriate remodeling, Millholland says it has not yet paid off. "I'm not sure our business has grown any, but it's something we'll continue to pursue, because one of these days it's going to matter, and we want to make sure we're there when it does," he says.
His company, along with the AARP and construction-industry media outlet Hanley Wood, is working to raise awareness about "universal design," which bakes enhancements for individuals at various stages of their lives into the design. That means turning curbless showers and toilet grab bars into sleek, modern-looking accessories and widening hallways outfitted with enhanced lighting—to accommodate not only walkers and wheelchairs but also children's toys and strollers. Their website, Home for Life 2012, offers an online tour through a virtual home that has been upgraded using universal design.
Its upscale style and improved marketing will convert resistant boomers and others into eager customers, says Deborah Pierce, a Newton (Mass.) architect and principal at Pierce Lamb Architects. "There are incremental things that can be done to improve a home, not giving it a medicinal environment but making it an open, sunny, low-maintenance place where life is easy for everyone," she says. In her upcoming book, The Accessible Home: Designing for All Ages & Abilities (Taunton Press 2012), Pierce argues that the piecemeal addition of items such as ramps and levered door handles to accommodate illnesses and injuries results in "an eclectic assemblage of things nobody wants."
But when such accommodations are built in during a remodel, they will become not only familiar but desirable. "It's like when curb cuts were first put into the streets of our cities [to accommodate the disabled]," says Pierce. "People resisted them until they realized that children on tricycles, little dogs, and mothers with carriages could use them. The same thing will happen as manufacturers create beautiful, accessible devices and we begin to see how they improve life for everyone."
Scott T. Burnham, chief executive of Burnham USA Equities, a real estate development and investment company with 25 employees in Newport Beach, Calif., is already seeing that happen. A newly subdivided community he's developing in Huntington Beach targets boomers with single-story homes on large lots with such options as wide doorways, covered entries, and ramps. "We've had an amazing response, with only word-of-mouth marketing so far," he says, noting that since he got required subdivision approvals a couple months ago, four escrows have closed and 25 of the 130 units are in escrow.
Older, established homeowners are also often better able to foot the bill for upgrades, says Sal Alfano, editorial director of Remodeling, a business magazine directed at professional contractors. "Boomers with higher incomes and home values often pay cash for these projects," he says. "As they continue into retirement, a significant percentage are going to want to update their homes and make them trendy. It looks like they are set for one final remodeling binge over the next 10 to 15 years."
Adding universal design elements to new construction and remodel jobs does not have to break the bank. "It's not necessarily exorbitant, unless you're adding something huge like an elevator, which can run $30,000," Alfano says. "The challenge for the contractor is to help customers define priorities and perhaps phase things in." For instance, clients replacing showers may not want grab bars immediately, but they can put blocking in place while walls are open to accommodate bars eventually. They may not need open space under a kitchen sink to allow for wheelchair access, but they can remodel cabinets to allow for that space in 10 or 15 years.
Contractors aware of these priorities are in a better position to win new jobs. "If I can hold myself out as an expert who can offer sound advice on a homeowners' future needs, I appear to be a stronger candidate in a clients' eyes," Alfano says. "That can make all the difference, particularly in this really competitive environment."
The key is to avoid giving clients the impression a job is being padded with unnecessary work. Instead, stress that adding universal design elements makes a home more livable over many years and adds value to the property. "If a contractor is well-versed in this topic, people might be willing to spend a little extra money, and then the project grows in scope, which is good for him and his business," Alfano says.