Phone Maker ZTE Eyes U.S. as Lawmakers Worry
by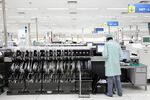 The Chinese government has a message for the Obama administration: We're watching how you treat our tech companies.
Responding to a question about reports that the FBI is investigating possible sales to Iran by Shenzhen-based telecom equipment and handset maker ZTE (763:HK), a spokesman for China's Commerce Ministry on Tuesday said the government expects the U.S. to resolve the matter fairly, the official Xinhua news agency reported on Tuesday. "We hope to receive objective, just, and proper treatment from the United States," Chinese Commerce Ministry spokesman Shen Danyang told reporters.
Any U.S. investigation could be especially risky for ZTE because the company has great hopes to expand in the American market. ZTE is already the world's fourth-largest maker of cell phones, thanks largely to its strong position in China and other emerging markets. Like other Chinese tech companies such as telecom equipment maker Huawei and computer vendor Lenovo (992:HK), ZTE isn't satisfied with success in the world's second-largest economy. The company wants its brand to be globally recognized, which means being a player in the U.S., too.
Others in Washington are already looking closely at ZTE and its Chinese rival, Huawei Technologies. On Capitol Hill, the House Intelligence Committee has been investigating the two companies for months, looking at whether their push to build sales in the U.S. presents opportunities for espionage by the Chinese government. "I remain concerned about the national security threat posed by the potential expansion of Huawei and ZTE into our telecommunications infrastructure," Representative Mike Rogers (R-Mich.), chairman of the committee, said in a statement last month. "We must get to the bottom of these issues before the companies have further access to our market."
Given the risk of pesky FBI or congressional investigators poking into their business, wouldn't Chinese companies be better off just ignoring the U.S. market and focusing on their domestic market?
China is the world's second-largest economy and is the top market for cell phones and computers. But as ZTE's latest earnings report shows, relying on China isn't enough at a time when the country's economy is feeling the impact of the euro crisis. ZTE's Hong Kong-listed stock price plunged 16 percent on July 16 after the company reported that it expects earnings for the first half of the year to be 60 percent to 80 percent lower than for the same period in 2011. Profits will range from 154 million to 308 million yuan, the company said, because of a slowdown in China, euro-related forex losses, and a decline in investment income.
Like Huawei, ZTE is trying to diversify by increasing sales of low-cost smartphones at home, as well as in the U.S. and other markets. That focus may help fulfill the Chinese goal of building impressive growth and becoming players worldwide, but ZTE's disappointing earnings forecast shows it comes at a cost. Hope for an earnings recovery depends in part on the low-end smartphone business becoming "more rationalized," Jones Ku, an analyst with Barclays, wrote in a July 16 report, "meaning the existing players with decent market shares focus on profitability again instead of top-line sales growth."
Before it's here, it's on the Bloomberg Terminal.
LEARN MORE