Keep on Truckin'
Harold L. Sirkin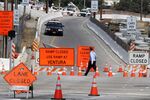 The American trucking industry has a great slogan: "If you've got it, a truck brought it!" Without the necessary roads and highways, however, forget it. The trucks aren't going anywhere.
Like the arteries and veins in our bodies, roads carry America's lifeblood, allowing commerce to thrive in our inner cities, our suburbs, and in faraway towns and hamlets miles from the nearest airport or train station. There is no more basic and necessary infrastructure than roads.
According to the American Road & Transportation Builders Association, more than 16.4 million tons of goods and materials, valued at more than $14.4 trillion, moved on U.S. roads and highways last year.
Our roads and highways also give our country and people unprecedented mobility. In 2010 alone, Americans drove some 3 trillion miles, the U.S. Department of Transportation reported, the third-highest total ever recorded. By 2025, total vehicle miles traveled is expected to increase to 4.3 trillion a year.
But, as Transportation Secretary Ray LaHood has noted, "more driving means more wear and tear on our nation's roads and bridges." And many already are in terrible disrepair.
According to a report released last August by the American Society of Civil Engineers, deficiencies in America's roads, bridges, and transit systems cost the U.S. economy roughly $130 billion in 2010.
Consider the 2007 I‐35W bridge collapse over the Mississippi River in Minneapolis. The accident caused substantial loss of life and injury, as well as an estimated $60 million in economic losses. About 140,000 personal and commercial vehicles used the bridge each day. Overall, state officials calculated that the state's economy suffered a net loss of $113,000 per day as a result of the collapse.
Traffic congestion also costs us billions each year. A 2009 study of 437 U.S. urban areas by the Texas Transportation Institute estimated that bad roads and traffic congestion drained some $87.2 billion per year from the economy in lost time, wasted motor fuel, additional pollution, and vehicle wear and tear.
Everything can't be a top priority. But roads should be very high on the list. Federal and state budgets should reflect this.
Before it's here, it's on the Bloomberg Terminal.
LEARN MORE