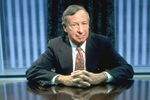 But first, we sadly note that Barton Biggs, founder of Morgan Stanley's research department, passed away on July 14. To quote from a tribute by our CEO James Gorman, "Barton left an indelible mark on our business, our culture and our shared notion of leadership at Morgan Stanley."
—Greg Peters, Morgan Stanley Strategy Forum, Morgan Stanley Research, Morgan Stanley, July 16, 2012
A year or so ago, I shared a stage with a vibrant Barton Biggs. I was concerned which Barton would show up.
There was the Institutional Barton and quite separately, the Institutional Barton who could not stand a retail investing public (and media) that was short-term and narrow-viewed. (Where will the euro be in 12 months?)
The full-strength Institutional Barton arrived and dazzled me and a Bloomberg Link audience with a nuanced, long-term, and worldwide perspective.
Thank you to Michael Holland and Byron Wien for personal and priceless memories Monday morning, and thank you to Mr. Biggs for an "indelible mark" that touched me and my listeners and viewers. (Here is vintage 1999 Biggs.)
On the news of his passing, I began to receive e-mails from those critical of Biggsian "wrong calls." Peso this; top of the market that.
Never forget the gulf between why and how the Street uses strategy and research as compared to Retail Buy-Hold-Sell. Retail investors want an immediate opinion to effect an investment to profit sooner, rather than later.
Institutional investors require international and interdependent research to enhance and inform their view and to provide context, depth, and insight.
Barton Biggs knew this. He invented it. Discuss.
Before it's here, it's on the Bloomberg Terminal.
LEARN MORE