College Students Are Bearing More of the Tuition Burden
By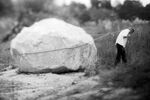 Every year the private education lender Sallie Mae sets out to understand how families pay for college. This year's report brought some bleak news, showing how financially stressed parents are shifting more of the education burden to students. Two years ago parents paid for 47 percent of college costs from income, savings, and borrowing; their share is now down to 37 percent.
Almost all of the decline reflects parents cutting back on the amount of income and savings they put toward education, rather than a decrease in borrowing. The average parental contribution from income and savings is down 32 percent since 2010, to $5,955. In 2010 the average contribution from college savings plans was $1,638; this school year it's $820. "This suggests that the availability of parents' savings has diminished," the report said.
Parents' pullback shifts more of the burden onto students, who now cover 30 percent of the costs, up from 23 percent two years go. Low-income students have long paid their own way, but now middle- and upper-income students are contributing more, too, both by spending more of their income and savings and by taking on more debt. The average student borrower now takes out $7,874 in federal loans.
(Dan Alpert, managing partner at Westwood Capital, a boutique investment bank, has said that families that used to count on home equity loans for extra cash are now turning to student loans because they are easy to get.)
As we've written, student loan delinquencies are worse than thought. A recent analysis by the New York Fed found that 27 percent of education borrowers not in grace periods were late on their payments. (The New York Fed also has a new, handy interactive graphic showing the historic rise of student loan debt by age cohorts.) We already know the debt burden is dragging down the economy and creating societal changes, like causing some graduates to delay getting married. The Sallie Mae report shows that students, though, aren't plagued by doubt. Despite carrying a heavier burden, nine out of 10 students see college as an investment in their future.