What's Jeremy Lin Worth to the Knicks?
by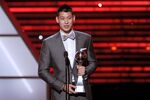 Strange weekend for the New York Knicks. It left newly signed point guard Jason Kidd's Cadillac Escalade dented on a roadside near the Southampton (N.Y.) telephone pole he collided with before being arrested on charges of driving while intoxicated. And it left the Knicks with a very sticky decision about the fate of their other point guard, Jeremy Lin. Without getting into the convoluted rules that govern NBA contracts, the choice looks like this: The Knicks can either keep Lin by matching the three-year, $25.1 million offer the Houston Rockets made, or they can let him go to Houston.
But there's a catch. Because of the luxury taxes NBA teams are bound to pay when they exceed set payroll thresholds, the third year of the deal, in which Lin would be due $14.8 million, would likely cost New York an additional $35 million to $45 million. The Knicks have until Tuesday night to decide if the 23-year-old Lin is a $60 million man.
Anonymous sources are telling various reporters the answer is no, that after one electrifying month last winter, Linsanity may soon be over in New York. Basketball is likely at the heart of the decision, though one never knows with team owner James Dolan, whose leadership NBA Commissioner David Stern once referred to as "not a model of intelligent management." The Knicks may simply be unwilling to sink that much money on a player on the basis of a half-season of play.
But Lin is, of course, more than a second-year point guard. The Harvard-educated Asian American is an international phenomenon who briefly made the Knicks the center of the sports universe and drove shares of MSG to record highs. The prospect of his departure has some fans fuming. An online petition asking the Knicks to match Houston's offer was up to more than 6,000 signatures at time of publication. And more than a few folks on Twitter are promising to ditch the Knicks in favor or the Brooklyn Nets, who will begin playing in their home this season. The Knicks have to sort out not just whether Lin is a $60 million player (probably not), but whether he is a $60 million revenue machine.
"For $60 million a year, some might say you should have Michael Jordan or LeBron James," says David Abrutyn, head of global consulting at sports marketing firm IMG Worldwide. "And we're talking about Jeremy Lin, who is obviously a great personality and a great player, but they've only had 30 games to evaluate it."
Lin's jersey rocketed to the top of the sales chart last February, but as Abrutyn points out, most of that extra revenue has to be shared with the other 29 teams. Only gear sold in the arena goes straight to the team coffers. During the height of Linsanity, one analyst told Bloomberg News that extra merchandise sales were a "single-digit millions" gain for the Knicks and MSG. More important than merchandise, says Abrutyn, are television ratings. "He drove the resolution of a dispute they were having on the cable side to get Knicks games back on the air," he says of last season's 48-day blackout of the MSG Network on Time Warner Cable that ended 11 days after Lin erupted on the scene. If Lin were to continue to play well, he would almost certainly be a ratings boon for MSG. But then, that's the question. How good will Lin be three years from now? In the end, Lin's play drives the off-court impact.
One lesson of last season's Linsanity, says Doug Shabelman, president of Burns Entertainment & Sports Marketing, is that New York fans are a fickle group. "The Knicks were terrible at the beginning of the year," says Shabelman, "and then all of a sudden Lin and all the excitement, and people got back on the bandwagon."
If Lin underwhelms, the casual fans will jump off again. That's what casual fans do. So the Knicks probably aren't paying much attention to petitions, cries of betrayal, and threats to head across the river to Brooklyn. "There's been another team across the way for a long time," says Abrutyn. "You've got to step away from the rhetoric and make the decision that you think is best for your franchise. If they win, the fans won't care."
Before it's here, it's on the Bloomberg Terminal.
LEARN MORE