The Ivy League of Adolescent Summer Camps
Paul Wachter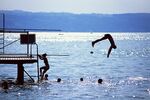 In his 1911 book, Camping for Boys, Becket-in-the-Berkshires camp director Henry W. Gibson argued that summer camps buttressed America's moral fabric. Extended vacation for upper-class city kids, free from farm chores, was nothing but "a period of moral deterioration," he wrote. Without the regimentation and moral guidance offered at camp, the boys were likely to spend their summers idly, "loafing in the city streets, or as disastrously at summer hotels or amusement places."
Today, summer camps are as much, if not more, a feature of American adolescence—and not just for upper-class boys. In East Harlem, for instance, the Children's Aid Society runs a day camp that's free. Throughout the country, the YMCA, Girl Scouts, and other such organizations offer affordable residential camps. The residential summer camp I attended at Western Carolina University in the early 1990s catered to middle-class kids (four weeks cost about $1,000).
But what about the young children of the 1 percent? While their parents summer in the Hamptons or Nantucket, what happens to young Bradley and Muffy?
Maine is a popular choice. Camp Laurel, a six-week co-ed camp in the Central Lakes Region, runs from June 23 to Aug. 11 and costs $10,800—plus another $975 for the optional equestrian program and $150 for laundry service. According to the promotional literature, it offers "a full camp experience in a broad program of athletics, adventure, waterfront and the arts." Camp Vega, a girls camp, operates the same six weeks along Maine's Echo Lake and costs $10,600, with the option of additional activities (e.g. figure skating) at further cost. Camp Skylemar, a six-week camp for boys in Naples, Maine, costs $10,750.
If $10,000 is the going rate for the privileged American camp experience, it's easy to spend a lot more abroad. There is, for example, the International Summer Camp of Montana. Think fondue, not buffalo. It's in Crans-Montana, Switzerland. There are three co-ed sessions—comprising golf, tennis, hiking, arts and crafts, and equestrian—of three weeks each. Each session costs $7,530 (airfare not included), and campers are welcome to sign up for all three sessions. No one does that, though, says the camp's secretary, Jodie Pralong. "We do have campers attend [two] sessions," she writes in an e-mail.
Still, if you really want to spend money on your kids, invest in serious sports training. A week at the IMG Bollettieri Accelerated Tennis Camp in Bradenton, Fla., costs $2,995, including lodging. There you may get some court time with Nick Bollettieri or Brad Gilbert, both former coaches of Andre Agassi.
Perhaps the most expensive summer camp in the world is for swimmers. The Somax Performance Institute Elite Swim Camp in Tiburon, Calif., runs five weeks, not including weekends, and costs $32,500—which doesn't include lodging, food, or travel. It shouldn't cost that much just to swim endless laps, acknowledges Somax director Bob Prichard, whose clients, including Matt Biondi and Jenny Thompson, have won 43 Olympic Gold medals and set 11 world records. "What we're focused on is technique, which we improve by many hours of filming the kids swimming underwater and analyzing," he says. "Other swim camps, where it's just endless swimming without the underwater filming, is like learning to play the piano wearing earplugs."
If the campers follow Somax's program throughout the rest of year and don't improve their times, their camp fees are refunded, Prichard says. But if there's one thing about his camp that stands out even more than the hefty price tag, it's the stipulation that parents also must attend. "We insist that parents come, because it's really about teaching them how to teach their kids," he says.
While that might make sense for aspiring Olympic swimmers, it raises the question: Is a summer camp with hovering parents really a summer camp at all?
Before it's here, it's on the Bloomberg Terminal.
LEARN MORE