business
NBC Buys Microsoft's Share of MSNBC.com
By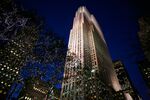 The long-rumored breakup between NBC News and Microsoft is now official. On Monday morning, NBC News announced that its parent company NBC Universal had bought Microsoft's 50 percent share of Msnbc.com for an undisclosed price (which the New York Times reports to be roughly $300 million) putting an end to a news-and-technology-sharing partnership that dates to 1996.
The move will give NBC News full editorial and business control over Msnbc.com. For now, Msnbc.com will redirect visitors to nbcnews.com. Next year, executives at 30 Rockefeller Plaza will relaunch Msnbc.com as the brand-appropriate, opinionated home of its left-leaning cable TV network MSNBC.
The sale will free Microsoft for the first time to start forging content sharing agreements on its portal MSN.com with news outlets other than NBC—a change that, in theory, will allow Microsoft to compete better in the news aggregation business with the likes of Google.
Microsoft announced late July 15 that the company will be rolling out a new version of the portal in the fall. "It will be singularly focused on online consumers, harnessing real-time signals produced by social networks using the power of search to deliver breaking updates based on relevant topics," reads the announcement. "MSN will utilize advanced technologies to mine real-time information from the web to keep users constantly up to date and in the know on the latest breaking news and trends across the Internet." Translation: Google News will be getting a new cyborg competitor.
The pressure will now be on NBC News executives to breath new life into Msnbc.com. According to data from Kantar Media Compete, traffic at Msnbc.com has been stagnant in recent years, hovering in the range of 1.5 million to 2 million monthly unique visitors and failing to sustain consistent growth.
Damian Roskill, senior director of marketing for Kantar Media Compete, says that the move will give NBC executives an opportunity to make Msnbc.com more of an editorial centerpiece in the hopes of boosting traffic and to allow better cross-selling of ads between its TV and Web properties—a sales strategy that was difficult in the past because Microsoft controlled Web advertising.
"This deal represents so many opportunities for NBC News, including the ability to better align television with digital, innovate around how we deliver content to consumers, and fully integrate digital into everything that we do," said Vivian Schiller, senior vice president and chief digital officer of NBC News.
Before it's here, it's on the Bloomberg Terminal.
LEARN MORE