'Lost Generation' of Homeowners May Just Be on Hold
Meghan Walsh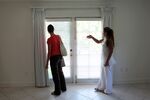 Blase Hennessy is about halfway through a three-year residency in internal medicine at Wexner Medical Center at Ohio State University, with full-time job offers already wafting in. Last spring the 27-year-old flirted with the idea of buying a condo for the duration of his residency, figuring he could sell it and make a few bucks if the job market pulls him out of Columbus. Then he learned his landlord had paid $200,000 for the one-bedroom roughly five years ago. And that for almost two years it had sat on the market listed for only $150,000. "When I saw that, I said, 'Forget it,'" Hennessy says. "It's just too scary." Today he rents the unit instead.
For some analysts, the scariest outcome of the collapsed home-price bubble is that it could turn an entire generation of would-be homeowners into perma-renters. Yale economist Robert Shiller floated the idea of a "lost generation" of homeowners in interviews with Reuters and Yahoo Finance. He thinks there is a chance that home prices in the suburbs may never rebound in our lifetimes.
Other economists and real estate experts say young would-be home buyers haven't given up on real estate as an investment. It's just that stifling student loan debt and the unstable job market have made it all but impossible—and it may be years before that changes. A study by the John Burns Real Estate Consulting firm predicts the homeownership rate for 25- to 34-year-olds will continue falling through 2015. It says the number of first-time home buyers has dropped 20 percent since 2009.
Losing young home buyers is hugely damaging to the broader economy. Housing contributes roughly 18 percent to U.S. gross domestic product, and a 2012 study by Harvard's Joint Center for Housing Studies on the state of the nation's housing found that if household formation had held steady at its pre-recession rate, there would be an additional 1.3 million U.S. households.
But the Harvard study also concludes that household formation is likely to spring back when job growth returns. Some young renter-workers I contacted supported that idea, as did an economist who has studied investor psychology. "This is purely an economic phenomenon, not a behavioral one," says Ben Sopranzetti, a professor at Rutgers Business School.
There are a variety of reasons why Millennials—defined as people aged 25 to 34—are shying away from investing in real estate. Start with the 8.2 percent unemployment rate for that group (identical to the overall U.S. rate for June). This generation is also constrained by higher-than-ever student loan debt and dormant wages. And home prices, while off from their pre-collapse peak, are still high relative to pay. Sopranzetti, 48, recalls that in his mid-20s his starting salary was $26,000 a year and the average price for a new home was in the low- to mid-$100,000 range. As of two months ago, the average price for a single-family home in the Northeast was $287,600. "There is a staggering difference between the average cost of a home compared to the average salary of Millennials," he says. "What we need is job growth." (I got my first full-time job out of college in 2008, just as home prices were plummeting, at a starting salary of $22,000.)
It could be years before the conditions are right for many of these young consumers to buy homes, even if they're inclined to do so. The economy is struggling to create enough jobs to account for population growth, let alone putting people back to work. Older workers with shrunken retirement funds cling to jobs they might have retired from, blocking the hiring or promotion of less experienced workers. Many of those Millennials who have decent employment are trying to pay down debt. Federal student loans have bloated 360 percent since the beginning of the recession, with the average student debt held by someone who graduated in 2010 at $25,250. And banks continue to tighten lending requirements, making it nearly impossible to secure a mortgage.
Jake Kraft, a 31-year-old real estate investor in San Francisco, says it's not that young people don't want to buy. He says they just don't want to tie themselves down—or they can't get loans. "People my age who are educated are working and saving," he says. "Once they've paid down their debt, I suspect people will be more financially capable."
In the meantime, the housing market has responded with a boom in apartment building. Multifamily housing development in June was up 63 percent from a year earlier, surpassing single-home production in some unlikely places, according to another John Burns study. The 225,000 units being built this year still lags the pre-recession construction rate. But the industry is catching up and more than 1 million new apartments are expected by 2015.
Job growth and apartment demand are closely correlated. Employment seekers follow the opportunities, which may explain why complexes are sprouting up in areas like Denver and San Jose. Short-term leases are attractive because young people, as in Hennessy's and Kraft's cases, want the flexibility to pick up if a job arises—or to move back home if their current one is eliminated.
The market will turn—eventually. As Millennials get older, they'll want to settle down. Credit requirements will loosen. And more buyers should be positioned to take advantage of it. "You have to look at it as a life cycle," says Joel Kotkin, an acclaimed author on economic, real estate, and social trends. "The Millennials are going to grow older and want to settle down. The key thing is, will the economy be so crappy that the Millennials will never be able to afford a house?"
Before it's here, it's on the Bloomberg Terminal.
LEARN MORE