How Employees Abuse Their Corporate Cell Phone Accounts
By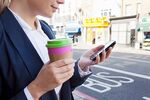 Electro-pop duo LMFAO is not just for the dance floor. Their hit Sexy and I Know It is also the most popular ringtone song downloaded by employees, according to a new report about mobile devices by Visage Mobile, a San Francisco-based company that helps clients monitor mobile-device usage.
The next most popular ringtones were Adele's Rolling in the Deep, Rihanna's Cheers (Drink to That), Blake Shelton's God Gave Me You, and Young, Wild & Free by Snoop Dogg and Wiz Khalifa. LMFAO also ranked ninth with Party Rock Anthem and Adele's Someone Like You came in 10th.
Mobile devices have blurred the line between work and life, and employers are finding some charges on their wireless bills that have nothing to do with business.
Visage's report is based on usage by 480,000 employees in 450 companies, from January 2012 through March 2012. It analyzed data from cell phone carriers, companies' human resources departments, and companies' device inventory data, which Visage's software analyzes for users. The average company in the study has 700 employees using wireless devices.
The analysis also found that "adult-oriented" apps such as SexyCougar and Mobile Love comprise 10 percent of downloads on employee devices. One-tenth also get premium SMS like horoscopes and celebrity news alerts. Still, employees aren't necessarily to blame—some of these downloads result from cramming schemes, in which companies charge consumers for services they did not order (see these complaints about Misty Mobile and this New York Times piece about HoroscopeGenie, for instance).
"We hear a lot of interesting expletives when [clients] see their data for the first time in our system—the 'Holy s—' moment," says Neil Cohen, Visage's vice president in charge of marketing. Of the average $852,000 a company spends on wireless per year, he says about 12.5 percent is "bad spend," which includes costs such as overages and roaming, as well as downloads. The average company spends $8,361 annually on employee downloads, including on ringtones, apps, and premium text services, according to the latest figures from Visage.
Cohen says employees who use such services often are not aware that company-issued phones can be individually tracked and monitored in such detail. Still, he believes "people aren't devious, they are just oblivious." A catchy ringtone can distract from all sorts of details.
Before it's here, it's on the Bloomberg Terminal.
LEARN MORE