ForumWatch: MBA Admissions Consultants, Yea or Nay?
Francesca Di Meglio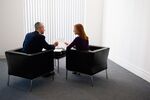 Applicants to top business schools are always looking for an edge. The competition is tough, and high test scores and GPAs are not enough. Enter admissions consultants. These are the guys who get paid to help applicants turn in their best applications. They read over essays, offer advice on where to apply, and help applicants come up with a strategy for getting into their dream school. Some people have expressed concern about the ethics of using admissions consultants. How much help are they really giving applicants? Should schools know if the applicant has hired an admissions consultant? Is it fair to those who are doing this on their own?
Recently, Bloomberg Businessweek asked participants on the Business School Forums to weigh in about the use of admissions consultants and how business schools should handle their presence. One respondent expressed concern about fairness but also mentioned that other applicants might have family members or friends proofread their essays, which isn't all that different. What do you think? Share your opinion on the "Admissions Consultants Questions" discussion thread.
Editor's Note: This blog post is part of a series about discussions taking place on the Bloomberg Businessweek Business School Forums, where prospective MBA program applicants, current students, and recent alumni trade admissions tips, job-hunting advice, and the occasional barbed comment. We invite you to join these discussions or start one of your own.