business
Citigroup's Lost Years
By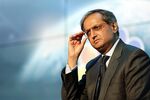 Citigroup's suffering shareholders might be compelled to seek comfort from how the bank has overcome centuries of brushes with death. After all, some four years into its recapitalization, a shrunken Citi is still trying—desperately—to find its footing.
Since the City Bank of New York was founded just before the War of 1812, it has survived multiple 19th century panics and a whopper of one in 1907, the Great Crash of 1929, and the ensuing Depression. In 1991, what was then Citicorp was reeling from losses it took on bad property loans. The Federal Reserve urged the bank, then the country's largest, to go out and raise money. Lots of it. Chairman John Reed went hat in hand to Saudi Prince Alwaleed bin Talal for a high-interest-rate capital lifeline. As Citi lived to see not just another day, but a decade, its stock surged 22-fold into 1998, when it megamerged with Travelers.
A decade later, the resulting subprime-happy financial supermarket nearly caved in on itself; it remains a shell of its old, confident self. In 2008, the U.S. government rescued Citigroup with a $45 billion cash injection and agreed to guarantee more than $300 billion of the bank's riskiest assets. As the bank's finances kept deteriorating, Washington repeatedly intervened to prop up the ward of the state, which was in such bad shape that the White House was reportedly ready to dissolve it. Again, Citi survived, if only by the skin of its mandibular second premolar.
Today's $27 stock price was made possible only by the ignominy of a 1:10 reverse stock split. In 2006, the shares were trading at $564.10, and were recommended by every other fund manager who lunched with this writer.
But that's a lifetime ago. On the face of it, the circa-2012 Citi is nicely profitable, as its Monday earnings report demonstrates. It's advising deals and docking thick ATM surcharges on cash that costs it next to nothing to warehouse.
But try as it might, Citi cannot quite escape the ongoing legacy of its near failure. Citi Holdings, essentially a dump site the bank created for its unwanted assets, saw its net loss increase 39 percent, to $920 million. Assets fell 28 percent, to a still-substantial $191 billion. In March, Chief Executive Vikram Pandit vowed to seek approval for a "meaningful" boost in payouts to shareholders after the Federal Reserve objected to Citi's initial submission for 2012. Last month, in an emasculating setback, Citigroup said it would tone down its effort to win such approval.
In April, Citi shareholders, who enjoy a largely symbolic 1¢ quarterly dividend, pinned a no-confidence vote of sorts on Pandit; the Fed had already stamped the same designation on his bank by flunking it in a doomsday stress test. Citi stock trades at half the level it changed hands for to start 2011.
Ultimately, Citi is a sloppy call option on the economy's ability to get its full groove back. For the bank to thrive in spite of its many legacy issues, housing and consumer credit conditions will have to improve vastly—both to help stanch losses on its bad assets and to curb the need to set aside money to cover new losses. Stock trading volume must rebound in a big way.
Pandit will somehow have to show shareholders that he, and not the Federal Reserve, runs a bank that is celebrating its 200th birthday—if only because it had to take more government aid than any other bank during the financial crisis. The challenge of '91 seems quaint by comparison.
Before it's here, it's on the Bloomberg Terminal.
LEARN MORE