Chef E. Michael Reidt's Office Bag Lunch
David Wescott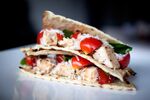 E. Michael Reidt is the executive chef of Area 31 in downtown Miami, where he has garnered a wide range of accolades for his pristine seafood, including a "Chef of the Year" award from Eater.com in 2011 (he was previously named one of the country's best new chefs by Food & Wine in 2001). A Massachusetts native, Reidt is well regarded for his Latin-fusion cuisine. Here he shares his homemade flatbread recipe.
Flatbread Ingredients
• 1 package active yeast
• 1/2 teaspoon sugar
• 1 3/4 cup all-purpose flour
• 1 teaspoon coarse salt
• 3/4 cup water
• 1 teaspoon oil
Instructions
In a food processor, combine yeast, sugar, flour, salt. Pulse to combine. Add the water in a steady stream until the dough begins to form a ball, turn it onto a board and knead with the heel of your hand until the dough is smooth and elastic. Coat a bowl with oil. Add the dough and cover with a damp cloth. Put in a warm spot to rise until double in size, about 1 hour. When the dough has doubled in size, push the dough down, put on counter, and knead it lightly into a smooth ball. Cut into 10 pieces and roll out to form very flat 8-inch circles. Bring a large sauté pan over medium high. You may also use your grill if grilling outside at some point. Do not oil. Place bread on hot grill and cook without touching it until you see bubbles on the surface, about 1 to 2 minutes. Turn and continue to cook 1 to 2 minutes more or until bread has puffed up. Set aside to cool. The dough can be individually wrapped and frozen. Pull dough as needed.
Bag Lunch:
Ingredients
• 1/2 cup diced cooked chicken
• 4 basil leaves chopped
• 1 tablespoon extra-virgin olive oil
• 1 tomato chopped
• 1/4 cup shaved Parmesan cheese
• Salt and pepper to taste
Instructions
Brush the flatbread with oil, season with salt and pepper. Sprinkle all ingredients on top, spread evenly. Wrap in plastic or place in a sealed container. On lunch break, unwrap flatbread, place in toaster oven for 4 minutes on high.
Before it's here, it's on the Bloomberg Terminal.
LEARN MORE