Behind Weak Retail: Anxious Consumers, Scared Bosses
Workers are still worried about their jobs
By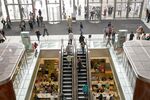 The surprising weakness in retail sales for June has analysts wondering just what's on consumers' minds when they go to the mall, or avoid the mall altogether. Excluding autos, gasoline, and building materials, retail sales growth slipped 0.1 percent month over month, writes Drew Matus, economist for UBS Investment Research. UBS had estimated a gain of 0.2 percent.
What strikes Matus is the on again/off again nature of consumer spending this year. "It's almost as though they turn off the spigot one month and turn it on again the next month," he says. Such behavior "doesn't seem to be skewing with the fact that job growth has remained positive and pay has been going up for those who are employed, thanks to overtime and other factors," he adds. "The pattern suggests a lot of uncertainty."
The question is, who's more uncertain: employers or workers? Matus suggests job creators are more nervous, and workers pick up on their anxiety. Most Americans work for small businesses, and with small company owners often just down the hall from their employees, it's fairly simple to figure out if the boss is worried or not. And small business owners are worried about everything from rising health-care costs to taxes. Partly as a result of these concerns, businesses are slow to hire, and those who are employed worry about losing the jobs they have.
As a result, U.S. consumers are building up their capacity to shop without really exploiting it. Matus explains that consumers have paid down a lot of debt and freed up a lot of income. "That should be buffering us a little bit," says Matus. "But you don't see it in today's data."
Before it's here, it's on the Bloomberg Terminal.
LEARN MORE