Arctic Row: Preparing to Depart
Collin West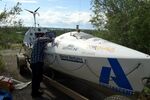 Under human power, all the tallest mountains have been climbed, the widest rivers paddled, and the largest forests explored. But one ocean remains—the Arctic Ocean. This blog will capture my personal experience as our team of four attempts "one of the last great firsts." If successful, our crossing will be the first rowing expedition to travel from continent to continent for a total of 1,300 miles. What will we learn about ourselves and the Arctic along the way? Visit this blog regularly to find out as we explore this question in real time.
July 12, 2012
It has been one wild month.
Four weeks ago, I graduated from Northwestern University's Kellogg School of Management with an MBA and three weeks after graduation I married the woman of my dreams.
Then, much sooner than I would have preferred, I said a tough goodbye to my new bride and attended orientation for a venture capital Kauffman Fellowship and my work post-row at Correlation Ventures.
But today, the Arctic Row expedition finally starts. I am sitting on the first of four flights as we make our way to Inuvik, a tiny town that sits 2 degrees north of the Arctic Circle. Our first stop is Edmonton, Canada. My excitement builds as the towns get progressively smaller. While in Inuvik, we will make final preparations on our boat, including packing our supplies and film gear for our documentary Into Thin Ice. Then we will drop our boat in the MacKenzie River about 70 miles north of the Arctic Ocean and commence our record-breaking attempt.
As we travel to the starting line of this adventure, I have been thinking a lot about this opportunity to blog for Bloomberg Businessweek and how my role in building this expedition relates to other areas of interest in my life. I am one of the many who can claim that going to business school changed my life, but one of the few who have been transformed with such magnitude and for that I am very grateful. At the very first social event of my MBA, I met fellow classmate Paul Ridley, aka "the guy who rowed across the Atlantic solo for 88 days." We were instantly trading adventure stories and before the night was over we were planning this expedition, which helped set my course for the next two years. This is but one example of the serendipitous nature of an MBA program.
Looking back, when I arrived at Kellogg, I wanted to take my entrepreneurial experience and apply it to learn about building businesses from the other side of the table—venture capital. Kellogg provided me with a rich environment of resources to pursue the venture capital and startup path. After working as an associate at two outstanding funds, I knew venture capital was where I wanted to stay. It's just too much fun! Had I not gone to B-school, I would have never had this opportunity to join the industry.
But back to work for now. The next few weeks will be about our progress on Arctic Row and how it intersects with other areas in a post-MBA life.
July 14, 2012
Today we went to a traditional Inuit drum ceremony. The local tribe preformed and I even had a chance to get up and learn some dance moves. The dance I learned tells a story about an Inuit man chopping ice and moving it off a trail to make room for his dogs and sled to pass through.
Before today, I had never been exposed to the Inuit culture and all I can say is that I have a deep respect for the people who have been living and hunting in this area for centuries. It is not easy living up here for those of us accustomed to city life.
For example, if the team that towed our rowboat up from Chicago had arrived two days later, they still would not be here in Inuvik. This is because it takes two ferries to reach Inuvik on the single road connecting it to the outside word. Unseasonable flooding caused an important cable on one of the ferries to break. This has basically turned Inuvik into an island. That, combined with a newly discovered bacterial issue with the local water, means we have bottled-water inventory issues. I think most people back home would be flustered to say the least, but it's pretty much business as usual around here. The locals have plenty of practice dealing with hardship.
July 15, 2012
A couple of observations about living in the Arctic Circle:
• The temperature in Inuvik, despite its location, is actually very warm right now. So warm that I've been sweating through my shorts and T-shirt while prepping our boat for departure. The locals say that warm days like this used to be rare but are happening more often.
• I tried to wash the boat today and was absolutely swarmed by mosquitoes. Like nothing I have ever seen. About two bottles of bug spray later, I was OK but still being bitten. Unreal.
• The mayor of Inuvik and his team have been amazing and so welcoming. For example, we have been worried about buying enough water for ballast in our boat because of the broken ferry cable and a water ban here in town. So we called up Jackie Challis at the mayor's office and she set us up directly. And right now I'm sitting at breakfast with her because she brought us certificates from the mayor stating "Welcome to the Arctic Circle"! Small towns like this are clearly accustomed to reaching out and helping each other. That mentality has certainly spilled over to us and we are grateful.
• A normal salad is $23 but a burger is $10. This is because produce is so expensive to fly in to the town. I'm missing vegetables already …
• Our boat now looks a lot like a Nascar race car because we added all our sponsor's decals yesterday.
Join the discussion on the Bloomberg Businessweek Business School Forum, visit us on Facebook, and follow @BWbschools on Twitter.
Before it's here, it's on the Bloomberg Terminal.
LEARN MORE