Power Play: Did Duke Energy Pick the Right CEO?
By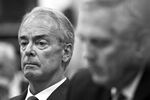 The staid, predictable world of regulated electric utilities isn't known for drama or intrigue. And yet the sector is currently serving up the most interesting corporate power play in a while, filled with plenty of ego and allegations of backstabbing and double-dealing. And all in genteel North Carolina, of all places.
After an 18-month courtship, two of the industry's heavyweights, Duke Energy and Progress Energy, finalized their $17.8 billion merger agreement last week. The combined company is now the largest utility in the country. Throughout the merger process, investors, board members, and regulators were assured that Bill Johnson, Progress Energy's hands-on, detail-oriented chief executive officer, would emerge as the united company's top dog. His counterpart, Duke's more outspoken, big-picture-focused CEO Jim Rogers, would stay on in a secondary role as executive chairman. The idea was that while Johnson focused on keeping the lights on, Rogers would be more of a traveling ambassador. That arrangement lasted for one day. On July 3, news broke that Johnson was out and Rogers would continue as chair and CEO of the combined company.
The move sparked immediate allegations of a bait and switch, and has stirred up a dust storm in North Carolina. The state attorney general is investigating. The state utilities commission is holding hearings, filled with awkward, reportedly nervous testimony from Rogers. (You can listen here. And here.) Although it's unlikely the commission will reverse the merger, it could slap Duke with some steep fines and give the company a hard time over future rate requests. The stock market hasn't liked the news. In the wake of the announcement that Johnson was leaving and taking a $44 million severance package with him, Duke's share price fell 5 percent by July 9 before recovering slightly.
Members of Duke's board have said that concerns over Johnson's autocratic management style led to their decision not to give him the reins of the combined company. Autocratic or not, Johnson got results while leading Progress, outperforming not only Rogers but also his other peers in generating returns for shareholders. In a July 9 research note, Andrew Bischof, an analyst with Morningstar, writes that "Progress's two-, three- and four-year total returns under Johnson through last month exceeded both Duke's returns and the average returns for its U.S.-regulated utility peers."
That's not to say that Johnson didn't have his missteps. Along with whatever concerns Duke's board had over his management style, it was also concerned about the way Johnson handled Progress Energy's Crystal River 3 nuclear plant in Florida. The plant has been closed since 2009 and, according to Bischof, led to a "soured" relationship between Progress and Florida regulators.
Bischof downgraded Duke's stewardship rating from standard to poor over "concerns about the independence of Duke's board of directors, its ability to integrate Progress Energy, and succession uncertainly," he wrote in his note. Rogers, 64, was thought to be on his way to reducing his day-to-day management duties. Although perhaps less adept at squeezing returns out of the regulated utility sector, Rogers is seen as a savvier operator than Johnson. "He's certainly more political," says Bischoff. "And much more outspoken." Rogers is the rare utility CEO to speak publicly in favor of renewable energy and the concerns about carbon emissions. He's also a bit of a show horse, a "statesman" who has testified before Congress some 20 times. He even appeared on The Colbert Report in 2009 defending "clean coal."
The North Carolina commission's inquiry remains ongoing. Asked how long it will last, or what the next step might be, top commissioner Edward Finley told reporters to "stay tuned." Although it's doubtful the commission will reverse the deal, Johnson may have an ally in Finley. The two once worked together as utility lawyers for the law firm of Hunton & Williams in Raleigh.
Before it's here, it's on the Bloomberg Terminal.
LEARN MORE