Office Upgrade: Stand-Up Whiteboard Desk
by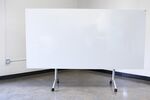 What it is: An adjustable-height whiteboard desk
Price: $1,980
Seeking to make its office a more creative workspace, San Diego sustainable design and manufacturing firm Noble Environmental Technologies looked to improve the desk. It wanted a table with a dry erase top that could flip and be used vertically, like a conventional whiteboard (see Bloomberg Businessweek's story on the Post-It desk). Designers also wanted height adjustability to get people standing—and theoretically, collaborating more (see our in-depth report on the growing use of standing desks).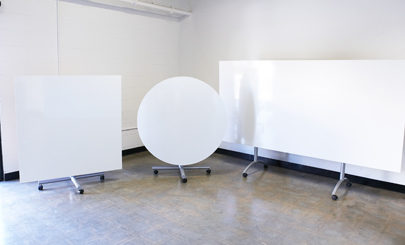 Noble's Ecor ThinkTable, first used internally and now available commercially, measures four feet by eight feet and goes from sitting height (31 inches) to standing height (46 inches). Other sizes are also available. Users lift a handle to flip the top from horizontal to vertical position and move it up and down with pegs on the legs. The tables are made from recycled material.
"We use them constantly," says Noble President and Chief Operating Officer Jim Torti. "It's been natural. People get it right away."
Torti suggests taking a photo of your work in case it's erased by a co-worker, though the ThinkTable does not come with a camera.
Before it's here, it's on the Bloomberg Terminal.
LEARN MORE