China Slows Despite Aggressive Stimulus
by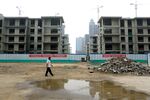 Amid growing concerns that China's growth figures may be overstated, the National Bureau of Statistics announced July 13 that gross domestic product grew 7.6 percent in the second quarter, its slowest pace in three years. A slowdown in investment, including in real estate and infrastructure, the primary driver of China's growth in recent years, plus a still fragile global economy, are hampering efforts to finesse a soft landing in the world's second-largest economy.
"We continue to believe that China's economy is not doing as well as the already downbeat official figures suggest," says Mark Williams, chief Asia economist at London-based Capital Economics in a July 13 note. "Our view is that growth may actually have been weaker still—our China Activity Proxy points to growth of around 7.0%."
The slowdown continues despite increasingly aggressive growth-boosting measures taken by Beijing. China's central bank cut interest rates twice in the last month-plus and has reduced bank reserve requirements three times since last November. China's planning agency, the National Development and Reform Commission, since May has sped up approvals of infrastructure projects including steel, new airports, and water treatment facilities. "Policies to stabilize growth include promoting consumption and diversifying exports," said Premier Wen Jiabao in Beijing on July 10, while meeting representatives from auto, trade, logistics, e-commerce, and real estate companies. "But the current priority is encouraging appropriate growth in investment."
Along with the GDP disappointment—the sixth quarter of declining growth—sales, industry, and trade also continued to cool. Retail sales growth slowed, up 14.4 percent in the year through June, as compared with 14.5 percent growth in the first five months. Industrial production saw 10.5 percent growth through June, down from the 10.7 percent registered year-to-date through May.
And with the debt crisis in Europe, China's biggest export market, far from resolved, China's trade continued to show signs of weakness. Exports slowed to 11.3 percent growth in June, from 15.3 percent the previous month; overall, during the first half, China's overseas shipments grew by only 9.2 percent, down from 24 percent in the first half of 2011. And imports saw a more dramatic drop in growth, up just 6.3 percent in June, vs. 12.7 percent in May.
Still, there have been some encouraging signs. In June new loans totaled 919.8 billion yuan ($144.3 billion), well above the 880 billion yuan median forecast in a Bloomberg survey. Also encouraging has been a pickup in property transactions. That seems to be in part due to Beijing showing more tolerance toward local efforts to boost sales, such as loosened mortgage requirements, even as Wen and others continue to insist restrictions will continue.
"The housing market is now picking up and should be less of a drag on growth in the rest of the year," says Andrew Batson, research director at GK Dragonomics, in a July 13 note. "And money supply growth, new bank lending and new non-bank lending (aka shadow finance) all clearly accelerated in June, in a sign that monetary policy is gaining some traction."
"I think it is important to note that the government has only recently started to take growth-supporting measures, so I wouldn't read too much out of the second-quarter data," says Louis Kuijs, an economist at Hong Kong-based think tank Fung Global Institute. "If growth continues on the low side, Beijing likely will continue with more steps and the economy is going to avoid a hard landing."
Before it's here, it's on the Bloomberg Terminal.
LEARN MORE