B-School Research Briefs
Francesca Di Meglio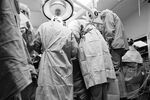 Here is a roundup of interesting research that business school professors have been conducting recently:
Avon Calling: A three-year study of South African women working as Avon sales representatives showed that the system helps impoverished black women in the country achieve economic autonomy and could be adapted to other goods in other emerging markets. Published in Entrepreneurship Theory and Practice, the research was conducted by Linda Scott and Catherine Dolan, professors at University of Oxford's Saïd Business School. It raised questions about whether Avon's product line, which consists primarily of makeup and other beauty products, is really the best thing to sell to the poor.
Scott and Dolan noted that those with 16 months or more of Avon sales under their belts earned enough money to cover a typical household's food, clothing, shoes, and health-care expenses. To draw these conclusions, the team ran an independent, multimethod investigation that was funded by the British government through the Economic and Social Research Council.
Kidney Swap Meet: Researchers at MIT's Sloan School of Management discovered a way to turn a single kidney donation into more than two dozen transplants. Traditionally, loved ones who were willing to give up a kidney for a family member but were not a match would donate an organ to someone else to ensure their family member would receive a kidney. This was a simple exchange, and the transplants were done simultaneously. The other option is for exchange services to implement chains, in which the transplants are not done simultaneously, which makes it easier for more people to receive kidneys.
The chain begins with a good samaritan who donates an organ to a stranger who lacks a family member who's a suitable match; the recipient's family then donates an organ to another stranger, and so on. The risk, however, is that the donors will change their minds once their loved one has received the kidney. Still, using patient data from two national kidney exchanges, Itai Ashlagi and David Gamarnik of Sloan, Michael A. Rees, a transplant surgeon at the University of Toledo, and Alvin E. Roth, an economics professor at Harvard Business School, determined that long chains can produce up to 70 percent more matches than the traditional donation cycle and could help hard-to-match patients find donors.
Calming the Angry Customer: When customers believe they've been treated unfairly, businesses can take more effective action by considering the relationship between the consumer and the brand. That's the upshot of new research published in the Journal of Consumer Psychology by Pankaj Aggarwal, a marketing professor at University of Toronto's Rotman School of Management and University of Toronto Scarborough, and Richard P. Larrick of Duke University's Fuqua School of Business.
The team categorized customer-brand relationships as either exchange-based (one based on economic factors, such as value and savings) or communal-based (one based on trust and partnership) and created scenarios in which consumers were treated unfairly, such as not getting what they paid for. By analyzing the results, the researchers concluded that marketers can correct situations in which consumers feel wronged by responding according to the type of relationship. For example, an apology letter might suffice in a communal relationship, whereas a refund or discount might be necessary in an exchange relationship, according to the study.
Join the discussion on the Bloomberg Businessweek Business School Forum, visit us on Facebook, and follow @BWbschools on Twitter.