Recruiter Q&A: PwC's Miranda Kalinowski
by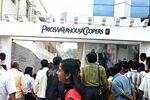 This is part of an ongoing series of Q&As with recruiters from top MBA employers. This week we bring you edited responses sent to Bloomberg Businessweek's Erin Zlomek from Miranda Kalinowski, U.S. advisory sourcing leader at PricewaterhouseCoopers.
Do you have a full-time hiring program that targets newly minted MBAs?
Yes. PwC Advisory has a campus recruiting program with opportunities across the U.S. in our consulting, deals, and forensics practices.
Do you expect your total number of MBA hires to increase or decrease this year?
We are expecting a 35 percent increase. The majority of our MBA candidates are hired directly into our consulting practice, which offers opportunities in strategy, operations, risk and governance, finance, mergers and acquisitions, people and change, and technology strategy.
Our consultants are also aligned to one of four industry groups: financial services, health-care industries, public sector, and products and services industries.
Where do you go to find MBAs?
PwC Consulting recruits from a majority of the top 30 business schools across the U.S., including the University of Michigan; New York University; Carnegie Mellon University; the University of California, Los Angeles; Cornell University; Duke University; Northwestern University, and the University of Chicago.
Describe your on-campus interview process.
It consists of multiple rounds of interviews. Candidates meet with at least two people in each round, and everyone has an opportunity to interview with at least one partner before an offer is extended. Candidates are asked to participate in a round of behavioral and case interviews.
What percentage of your MBA interns typically receive job offers at the end of their internships?
Our goal is to extend full-time offers to all our MBA summer interns. We had 72 MBA interns last summer, and around 80 percent were converted to full-time hires. This summer, consulting will have nearly 75 MBA interns across the country. Interns have an opportunity to participate in our corporate responsibility initiative, Project Belize, as well as work internationally.
Why should an MBA student want to work for your company? What's different or unique about the culture, the opportunities, or the work itself?
In April, PwC was ranked No. 1 on DiversityInc's Top 50 Companies for Diversity and was recognized as being No. 1 in recruitment and retention. Advisory practitioners at all levels have the flexibility to shape their careers in whatever way meets their personal and professional goals.
Join the discussion on the Bloomberg Businessweek Business School Forum, visit us on Facebook, and follow @BWbschools on Twitter.
Before it's here, it's on the Bloomberg Terminal.
LEARN MORE