MBA Alumni in the News: July 12
Louis Lavelle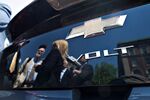 Each week, Bloomberg Businessweek brings you an update on how MBA alumni from top business schools are making news—the good, the bad, and the ugly. This week, graduates from Dartmouth, Harvard, and Stanford were among those making headlines:
Libor Saga Continues: Bob Diamond, the Barclays chief executive in hot water over the bank's attempt to rig the Libor rate used as a benchmark for global lending, was accused of misleading U.K. lawmakers about the company's relations with regulators. Diamond, an MBA graduate of the University of Connecticut, will also forgo a $31 million bonus.
Pulling the Plug: Tony Posawatz, an MBA alum from the Tuck School of Business at Dartmouth College, retired from General Motors. Posawatz, 52, was the vehicle line director for the Chevrolet Volt. His departure came after GM CEO Dan Akerson cut his sales forecast for the plug-in sedan. Posawatz told Automotive News he "decided to take some time to pause and assess the situation and see what opportunities exist" beyond the carmaker.
In the Running: Yoel Zaoui, Goldman Sachs's former M&A co-chief and an MBA grad from the Stanford Graduate School of Business, is a possible contender for the top job at Vivendi. The company hired a headhunter to find a successor to former CEO Jean-Bernard Levy and started identifying external candidates for the position.
Thanks, But No Thanks: After news broke that Hulu chief Jason Kilar was in the running for the top job at Yahoo, the Harvard Business School MBA alum said he wasn't interested.
Post-IPO Blues: Bankia chief executive Francisco Verdu retired from the Valencia, Spain-based bank a year after he was hired ahead of its IPO. Verdu, 57, is an MBA alum of the University of Chicago's Booth School of Business. Under his watch, Bankia shares have lost three-quarters of their value.
Movers and Shakers: Vodafone tapped Shameel Joosub, an MBA graduate of the University of Southern Queensland, to run its South African business. Cengage Learning is seeking a new chief to replace Ronald Dunn, an MBA alum from the Fisher College of Business at Ohio State University who will become executive chairman once his successor is hired. Mark Bourgeois, head of the Americas at the asset management group at Credit Suisse, left to become CEO and president of Atlantic-Pacific Capital, a placement agent and advisory firm that helps alternative asset managers raise money. Bourgeois is an MBA grad of the University of Pheonix.
Join the discussion on the Bloomberg Businessweek Business School Forum, visit us on Facebook, and follow @BWbschools on Twitter.
Before it's here, it's on the Bloomberg Terminal.
LEARN MORE