Why Job Openings Don't Translate Into Jobs
By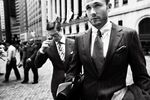 More blah news on the unemployment front, this time from the Labor Department's monthly survey on job openings and labor turnover, known as the JOLTS report. The number of U.S. job openings increased to 3.6 million in May, up from 3.4 million in April. So did the number of layoffs, from 1.7 million to 1.8 million—the highest level in two years. With 12.7 million people out of work, that still means there are 3.5 people for every job opening. Not good. A healthy ratio is usually around 2-to-1.
There were scant bright spots. Job openings increased most in the Midwest, reflective of the region's strong automotive and energy sectors. State and local governments posted more job openings in May than in April. More people voluntarily quit jobs, which can sometimes be an indication that workers feel more confident about their ability to find a better job, or at least another one.
All that said, it's debatable how instructive the JOLTS data really are. For one, JOLTS lags a month behind the payrolls report. There also doesn't appear to be much of an immediate correlation between job openings and hiring; one does not necessarily beget the other, at least not for several months. Just look at what happened this winter. In January, payrolls grew by 275,000, the biggest monthly increase in two years. Yet job openings that month clocked in at a middle-of-the-road 3.4 million. As hiring slowed significantly over the next few months, the number of job openings in February and March actually increased. The burst in hiring that we saw in January, February, and March, when an average of 225,000 jobs were added each month, was much more a function of two years of a gradual, choppy increase in job openings than any of the short-term ups and downs.
"There's a lot of noise in the monthly job openings data," says Justin Wolfers, an associate professor at Wharton. While the payrolls report has a margin of error of +/- 100,000 and a 90 percent confidence interval, the job openings data is even less precise. In other words, says Wolfers, "Don't over-interpret every blip in the data."
Some are pushing the theory that the reason we're not seeing job openings translate into more hiring is that there's a skills mismatch out there—that businesses simply can't find qualified candidates. Not only is this an oversimplification of the current labor market, the data don't bear it out. In the most recent small business survey from the National Federation of Independent Businesses, only 15 percent of business owners reported hard-to-fill job openings—a decrease of 5 percentage points since May.
Yet we keep hearing that we're hopelessly stuck with high unemployment, that we've maxed out monetary and fiscal policy solutions. The latest example of this line of thinking came earlier this week from Jeffrey Lacker, president of the Federal Reserve Bank of Richmond, who told Bloomberg Radio that he thinks the U.S. is "pretty close to maximum employment right now"—even as the jobless rate remains above 8 percent. Lacker has been a notable outlier recently, as my colleague Peter Coy discussed a couple of weeks ago.
There are a few reasons to believe the U.S. economy is not getting close to its maximum employment level. When the economy does that, sectors overheat and wages increase—neither of which is happening right now. But the biggest indication that we're nowhere near maximum employment is that inflation is falling, not rising. When the labor market is tight, inflation tends to rise, as illustrated by the Phillips curve (no relation). The rate of inflation is slowing down, not speeding up. Since September 2011, the consumer price index has been cut in half, from 3.9 percent to 1.7 percent at the end of May.
Before it's here, it's on the Bloomberg Terminal.
LEARN MORE