Q&A: The Man Who Paid Off His Mortgage With 62,000 Pennies
David Wescott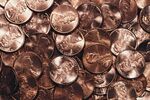 On the day of his 35th wedding anniversary, Thomas Daigle, an optician from Milford, Mass., walked into a local bank to make his final mortgage payment. Instead of carrying a checkbook, Daigle came armed with 62,000 pennies stored in military-grade steel boxes. The total weight was more than 400 pounds.
The idea of paying off his house in pennies has been a recurring joke in the Daigle household for more than three decades. Daigle, 60, has been counting, organizing, and storing the pennies in his basement, diligently wrapping them in paper rolls. Milford Savings & Loan Association, where they were deposited, was apparently pleased with the inundation of change. Remarkably, all the coins had been counted correctly.
Why did you make your final mortgage payment in pennies?
It was a commitment I made to my wife, Sandra. After we signed our mortgage, when we were on our way home, I found a penny on the ground. I told my wife, "A penny toward our mortgage." She laughed. I told her we were going to pay our final mortgage payment in pennies, and she didn't believe me. I wanted to show her I was a man of my word, and it was a pretty extensive ongoing joke. I started putting pennies in a change bowl in the hallway. The quarters and nickels—you use those to buy coffee. But the pennies? I just kept storing them. On winter weekends I would take some time to roll pennies. Why not? My kids liked it, and we'd do it together. There isn't a whole lot to do on snowy winter weekends in Massachusetts.
Where'd you store them?
When there were too many for a change bowl, I started keeping them in a glass orange juice bottle—they don't even make those anymore. I'd roll the pennies into groups of 50 on my workbench in the basement. When there got to be too many, I'd store the rolled pennies in a wooden grape crate—the kind you get when you buy grapes in bulk. Things just kept going, and then soon enough, when I'd pick up the crate, the bottom would fall out. I'd have to screw it back together. One day I was looking through a catalog selling hydraulics parts. They were advertising some steel military boxes—the kind of things you see at army surplus stores. The ad said they were great for storing things. I decided to get one, and since I noticed the shipping and handling would be the same, changed my order to get two.
Did you ever find any rare pennies that might be worth more than 1¢?
No, that wasn't my concern or interest. As long as it was a penny and could be rolled into a group of 50, that was fine.
So how'd you get them to the bank?
I had the pennies in one of the steel boxes, and there was no way I could lift it. They weighed about 400 pounds altogether. I split them up and was able to get them in the back of my SUV. Once the pennies were in, along with the steel boxes, my wife, who is disabled, came along. Her wheel chair went on top of the boxes, and we headed to the bank.
What was the Milford Federal Savings & Loan's reaction?
It's a small town, and I know the people who work at the savings & loan. I'm an optician, and many of them come to me for my work. They certainly knew we were coming. It was my wife's and [my] 35th wedding anniversary, the final payment on our mortgage, and the bank was celebrating their 125th year in business. I've had an account there since I was 10—I used to deposit the money I made mowing lawns at that bank. It took them two days to deposit the pennies (they had to remove the paper wrappers), but they seemed happy for me and for what I had accomplished.
Now that the joke's over, will you collect something else?
I'm done with the collecting, in that I reached that goal. I would like to keep collecting grandchildren—I now have four. It's been a great project for my family, and I think there's a good example in it. When you find a penny on the ground and pick it up, it's an instant that brings back memories of childhood. It's a special moment.
Before it's here, it's on the Bloomberg Terminal.
LEARN MORE