Mitt Romney's New Line of Retro Apparel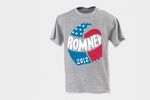 The Obama campaign has taken plenty of ribbing from Republicans—and from Bloomberg Businessweek, as this cover attests—for hawking a line of designer clothing on its website, including everything from $95 Thakoon Panichgul scarves to $75 Tory Burch tote bags to $20 scented soy candles and more.

As I wrote in this recent profile of Obama campaign manager Jim Messina, it was Vogue editor Anna Wintour who inspired this unusual detour into fashion. What interested Messina about it was not a love of couture but the additional revenue to be gained by selling expensive merchandise. A $95 scarf has a much higher profit margin than a $12 T-shirt.
As Washington Post reporter Philip Rucker has noted, it seems that Mitt Romney, too, is dipping a toe into the world of fashion. A line of Romney-branded, wrinkle-free khakis, you ask? Or perhaps his steam-pressed, high-waisted dad jeans? Nope. The Romney campaign has instead rolled out a "Vintage Collection" of 1968-era campaign goodies from when his dad, George Romney, ran for president.
There is, admittedly, very little about this collection that could be considered "designer." Wintour would undoubtedly sniff in disapproval. But if you're a Romney enthusiast inclined toward retro styles, these clothes might strike you as pretty cool—ever-so-slightly psychedelic, but not so much that your straitlaced, Reagan-venerating peers would mistake you for a hippie. And at $35 for a vintage Romney three-quarter-sleeve henley shirt, they're pricey enough that they're probably bringing in a tidy sum for the campaign.
So by donning Romney vintage wear, you're not only expressing your fashion sense and support for Mitt, but also your belief in good old American enterprise.
Before it's here, it's on the Bloomberg Terminal.
LEARN MORE