Landing Overseas Distribution With Limited Resources
by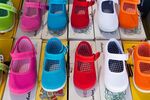 I sell a patented children's shoe line at a local mall; my products have attracted regional media coverage. However, I am a Lebanese small businessman who works with local shoemakers and I have no bank loan or venture capital. One online U.S. retailer has asked for 1,000 pairs but wants two-day shipping and wants me to absorb the inventory that does not move during a three-day sales event. This is a promising business, but I'm considering shelving it until I find a good retail option. Do you have any advice?
—F.S., Al Khobar, Saudi Arabia
Congratulations on the progress you've made on protecting your idea and finding a market for your product. Thanks to social media and e-commerce, novel items are getting increased visibility—and it sounds like you're capitalizing on that. At a certain stage of development, however, many small businesses run into the trouble you are now having meeting increased demand with scarce financial resources.
Throw in the added complications of international business transactions, and it's no wonder you're discouraged. But look at this new opportunity on a risk-vs-reward basis, advises Ben Walters, founder of OSPOP, a fashion and footwear company that sells China-made products globally through operations in the U.S. and China. "If the online retailer has held flash sales with similar product, at a similar price point, and moved 1,500 units, then it would seem a good opportunity. If the online retailer has held flash sales with similar product, at a similar price point, and moved 500 units, then you might pass," he writes in an e-mail.
Asking you to provide two-day shipping from Saudi Arabia to the U.S., which would be prohibitively expensive, and wanting you to maintain inventory liability should red-flag this retailer, Walters warns. "Most flash sites don't crush brands with high shipping charges. Often, the flash site will pay shipping for all sales from a U.S. origin to their consolidation point, and they'll handle final delivery to consumers."
Ayse Oge, president of Ultimate Trade, an Encino (Calif.) international consulting company, agrees: "[You] can't afford to make a shipment like this without getting paid, or it would put your business in jeopardy. This particular case clearly demonstrates a U.S. online retailer's intention to experiment with sales of patented shoes at a Saudi business's expense." A better option, if the retailer is willing to negotiate, would be to set up a trial in which the retailer buys $5,000 to $10,000 worth of merchandise on a cash-in-advance basis and evaluates the results it gets. If the trial does well, you can continue to do business with that retailer using letters of credit, Oge says. (Various methods of international finance are discussed at Export.gov.)
To explore other options, you might consider licensing your patent to an established children's shoemaker or a brand that wants to add children's shoes to its product line. "As a licensor [you can negotiate payment] through a lump sum or with royalties over time," Oge says. "The fees are established and negotiated based on volume and period of use."
Another way to go would be shipping your goods to a third-party retailer, who would agree to supply the U.S. retailer with any product that sells during the three-day flash-sale event and then keep the remainder for sale through his own channels, Walters says.
Or you could use a vendor such as Shipwire.com, which handles order fulfillment for a monthly fee that starts around $25. The company has warehouses in the U.S., Canada, Europe, and Asia, says Chief Executive Damon Schechter. "Many retailers and distributors are unwilling to make the inventory investment on an unknown international product brand," he notes. Using an order-fulfillment service, you would store inventory in warehouses close to your buyers and ship it at domestic ground rates in one to two days if needed. "You can sell inventory through multiple channels to reduce your risk, if your retail buyer can't move units," Schechter adds.
Before it's here, it's on the Bloomberg Terminal.
LEARN MORE