Greece's Next Task: Raise €15 Billion in Privatizations
It has to sell state assets to convince the skeptics
Nick Malkoutzis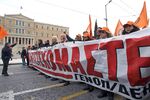 Greece collected less than €1 billion ($1.2 billion) in revenues from privatizations over the last three years. The new Greek government is promising a dramatic turnaround. It has pledged to raise €15 billion by 2015. Athens hopes this will keep loans coming from the euro zone and the International Monetary Fund and help rebuild trust with its lenders.
The coalition administration, led by conservative New Democracy, decided against playing hardball over the renegotiation of its bailout. Instead it says it will stick to the targets it agreed with its lenders earlier this year. It wants privatizations to spearhead a charm offensive that may later convince the Europeans and the IMF to relax the loan deal's terms.
Finance Minister Yannis Stournaras told Parliament over the weekend that the privatization program was the government's "highest priority." The inertia caused by closely contested elections in May and June and a deepening recession have derailed Greece's fiscal and reform program.
Greece had initially planned to raise €50 billion from sell-offs by 2015 but has revised this to the more realistic €15 billion. There is more, though, to Greece's privatization program than raising revenues. Jason Manolopoulos, author of the book Greece's Odious Debt and co-founder of Dromeus Capital, an asset management company, says this is a chance for the three-party coalition government to show it is making a break with the past.
"By tackling privatizations, you expose all of Greece's domestic governance issues upfront," he says. "You break the nexus between the public sector administration, politicians, and jobs for votes. This is about signaling. It is a milestone showing how Greece could move forward for the next five to 10 years."
Greek governments have found it difficult to privatize public companies in the past. Few state assets had been sold before the crisis struck in 2009; since then, interested investors have been scarce. The only major deal was the sale of 10 percent of OTE telecoms to Germany's Deutsche Telekom (DTE: GR) for €400 million in 2011. It was hardly a groundbreaking transaction, though. The German company already owned 30 percent of the Greek company.
Greece has struggled to attract major investment with many of its public companies running substantial losses. The Hellenic Railways Organization (OSE), for example, had racked up debt of more than €11 billion before undergoing restructuring last year. Political resistance has also been an obstacle to the sale of more attractive assets such as the Public Power Corporation (PPC). Convincing unions and opposition parties to sell profitable assets in the current negative climate—possibly for bargain prices—is going to test Stournaras's powers of persuasion.
The coalition government has a list of 28 assets, including OSE, PPC, the profit-making state gambling company OPAP, water firms, casinos, and some prime real estate it wants to sell to private investors. Concession deals for Greece's main cargo ports in Piraeus and Thessaloniki, as well as 10 regional ports will also be on offer.
The target of €15 billion by 2015 is achievable, says Manolopoulos, but the success of the privatizations could be determined by who is willing to put up the money. "It depends on who buys these assets. Will they be bought by local oligarchs or will there be investors from abroad?" he says. "By letting in big foreign investors, Greece can show that it's becoming investable and welcomes foreign direct investment."
First, there is political resistance to overcome. The militant GENOP workers' union at power company PPC has threatened to go on strike, possibly causing blackouts, if plans to sell some of the company's units proceed. GENOP has recently shifted its allegiance from the crumbling Socialist party, PASOK, to the up-and-coming leftist alliance of Syriza. The leftist party came a narrow second in the June 17 elections and opposes the privatization program.
One Syriza member of the Greek parliament has suggested that anyone involved in the sell-offs could face legal action if the leftists come to power. Party leader Alexis Tsipras adopted a more moderate line. He said Syriza, which has proposed that proceeds from state assets go into a fund to support the social security system, does not want to relinquish control of public companies but would consider working with strategic partners.
"In some cases, synergies could bring benefits," he told state-run NET TV on Wednesday. "We do not have a dogmatic approach. These assets could be part of Greece's productive model for years to come. We want investment, but we want it to provide revenues well into the future."
Even if the government manages to change the pattern of the past few decades and overcome investor skepticism and political opposition to privatizations, a further painful reality stands in its way. It has to make €3 billion of budget cuts this year to satisfy its lenders and then €11.5 billion in cuts over the next two years. This means privatizations are likely to be more of a symbolic act than one that changes the country's financial fortunes.
"Privatizations won't be a silver bullet," says Manolopoulos. "They won't break the downward loop Greece's economy is in, which will be made worse by the new fiscal measures to be adopted."
Before it's here, it's on the Bloomberg Terminal.
LEARN MORE