Five Reasons We're in a Recession—and Five We Aren't
On net, U.S. economy seems to be growing
By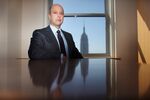 Lakshman Achuthan, the co-founder of the Economic Cycle Research Institute, told Bloomberg TV's Tom Keene on July 10, "I think we're in recession already."

Are we? Achuthan is right that, as he told Keene, "It's very rare that you know you're going into recession. … It often takes some big hit on the top of the head." He's also correct that recessions don't have to be cliff-like collapses such as the one the U.S. suffered in late 2008.
But it's going out on a limb to say that the U.S. is already in recession when the median forecast of economists surveyed by Bloomberg is for the economy to grow at an annual rate of 2.2 percent in this quarter and the next.
Remember, recession means the economy is not just operating below capacity, but outright shrinking. So even if the economy is deep in a hole (which it is) but is not going any deeper, it is not in recession.
Let's go to the data. Here are five data points that back up Achuthan's claim that we are already in a recession:
1. Factory output is slumping. The manufacturing index of the Institute for Supply Management dipped in June to 49.7. Any figure below 50 means the sector is shrinking. It was the first sub-50 reading in nearly three years.
2. Consistent with the ISM's measure, industrial production dipped slightly in May from April.
3. In the Philadelphia Fed's June survey of manufacturers in its region, nearly 40 percent reported declines in activity. It was the second month in a row in which respondents' down thumbs outnumbered the up thumbs.
4. While gross domestic product rose in the first half, it's not a strong indicator of where things are headed. After all, GDP grew in the last quarter of 2007, even though the worst recession since World War II began in December of that quarter.
5. Consumers are still glum. Bloomberg's weekly Consumer Comfort Index, despite an upward blip earlier this year, is still at levels seen early in the 2007-09 recession. Which means consumer spending is unlikely to lead the economy out of the slump.
And here are five indicators that say we aren't in a recession:
1. Employment is growing, albeit slowly (80,000 jobs in June). Payrolls have increased every month since October 2010. An economy that's adding jobs can't very easily be in recession, since job growth is one of the main characteristics of an expansion.
2. Workers' pay is up, which will sustain spending. The number of hours worked and the level of wages both rose in June.
3. Long-term interest rates are higher than short-term ones: 1.9 percent on 10-year Treasuries vs. just 0.09 percent on three-month Treasury bills. As long as long rates are higher than short ones, it means individuals and businesses that borrow to expand are at least mildly optimistic about the country's long-term growth potential.
4. Manufacturing and trade sales—a wholesale measure that's broader than retail sales—are still growing. The U.S. Census Bureau says that in April they were up 0.2 percent from March, and up 5.4 percent from April 2011.
5. The stock market isn't a foolproof indicator of the economy, but the fact that the Standard & Poor's 500 index is up for the year (6.4 percent) shows that people with real money at stake are still collectively betting on a continued expansion.
The bottom line? The U.S. economy is probably not in a recession. But even if the bearish indicators don't show that a downturn has begun, they prove conclusively that growth has weakened—and the chance of an outright recession has risen markedly since the start of the year.
Before it's here, it's on the Bloomberg Terminal.
LEARN MORE