Test-Driving Tesla Motors's Super-Fast Model S
by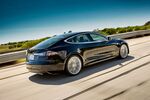 So far, Tesla Motors has delivered 10 of its Model S, all-electric sedans. Last week, I managed to find one of these beasts out in the wild. It belongs to Konstantin Othmer, an easygoing engineer-cum-entrepreneur, who let me take the wheel of his new toy.
The standard Model S starts around $50,000 and will start shipping in the coming weeks. Othmer does not have a standard Model S. Rather, he has one of the super-high-end Model S Signature cars that just started rolling out of Tesla's Silicon Valley factory in the last couple of weeks. With some extra add-ons and a luscious red paint job, Othmer's car went for about $130,000. For that much money, you get a car that seats seven people (if a couple of them are small children) and has enough juice to go 300 miles on the highway and 0 to 60 in 4.4 seconds.
The Model S experience starts well before you get into the car. The key, for example, looks like a Matchbox toy car. You double-click on the hood of the tiny car to open the hood of the big one and likewise for the trunk. When you double-click on the side of the car/key, door handles—which start out flush with the side of the Model S—spring out. That part is what's technically referred to as "Star Trek Cool."
Oh, and about the hood and trunk. Well, they're sort of the same thing. Since the Model S has a physically small motor and places its batteries on the underside of the car, there's a ton of extra room in front and back, and you end up with two storage compartments that are each big enough to hold entire humans, as Othmer proves in this video. (Please pardon the cursing.)
The inside of the car reveals even more space. The area under the dashboard of your car is probably consumed by a huge hunk of plastic that hides all kinds of mechanical bits and bobs. Not so with the Model S: The car has a generous open area to store, oh, a medium-sized dog, if you're into that sort of thing.
There's also the 17-inch entertainment console, which is ridiculously large in a wonderful way. When you bring up a map, it sort of explodes onto the screen, as if you were in the cockpit of some very important plane. The sound system displays album artwork in all of its glory and actually does go to 11, as demanded in Spinal Tap. It also displays information about the car's performance; on this day Othmer challenged me to make my electricity consumption spike as high as other people who had test drove the car. I, sadly, failed.
I did, however, have my gut compress against my spine as the car took off down an expressway. (The Model S is indeed the brainchild of Elon Musk, Tesla's chief executive officer, who makes rockets in his spare time over at SpaceX.) The car really does seem like a sedan in name only, since it's able to make a giant blur of its surroundings and do so in near total quiet. It's actually kind of eerie that something can go this fast and make such little racket.
On the whole, the car is a total delight. Your foot goes down on the brushed metal pedals, and then—poof!—you're flying down the road with all the onlookers trying to make sense of what just passed them.
Or, as Othmer puts it: "This is a step forward in automotive history. I really didn't think they would be able to do it with the Model S. I expected way more issues. But here you have a four-door sedan that has tons of space, performance, and luxury."
Before it's here, it's on the Bloomberg Terminal.
LEARN MORE