Divining the Future of Small Business Hiring
by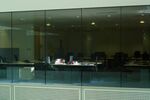 Small business owners are bummed about the future, according to a closely watched confidence index by the National Federation of Independent Business. Today's report shows respondents cut by an average of 0.1 workers per business in June, and only a net 3 percent plan to increase headcount over the next three months, the largest drop in a year.
The advocacy group billed the report, based on responses from 740 members to 10 measures of economic health, as a significant overall decline, and its chief economist, William Dunkelberg, clearly telegraphed his pessimism in an interview with Bloomberg News: "The immediate future doesn't look good. Nobody really expects business conditions and consumer spending to get any better."
Of course, a slew of sources attempt to gauge the health of the small business economy. And they often contradict each other. Intuit's June Small Business Employment Index, for example, shows small businesses increased hiring by 0.3 percent last month, the strongest job growth in three months. Intuit's report doesn't rely on mailed surveys, as does NFIB's; it reflects data from 70,000 small employers (with 20 employees or fewer) that use Intuit's payroll software.
Beyond the collection methods, why the discrepancy between the two indexes? I called Holly Wade, senior policy analyst at the NFIB, to get her take. "[Intuit] is generally far more optimistic than we are with our numbers, in part because when they're looking at job numbers from their client database, they're small businesses that use payroll services," says Wade. "And only about 19 to 20 percent of small employers actually use a payroll service, so they're looking at a distinct population of people. Whereas we conduct our survey with a sample from our membership, which is more representative of the entire population of small business owners." She says about 90 percent of her respondents have 40 employees or fewer.
Economist Susan Woodward, who helped create the Intuit index, attributes some of the difference to the size of the businesses. "The ones who are in our set are really small small businesses. The average customer for the payroll service has four employees." She notes their revenue numbers "are somewhat consistent with the pessimism that the NFIB guys are displaying."
Woodward is convinced a small business recovery is under way; "it's just not as fast as anybody would hope." Our columnist Scott Shane weighed in this spring with a commentary that reinforces Woodward's opinion.
Before it's here, it's on the Bloomberg Terminal.
LEARN MORE