Corporate Income Growth Presents a Rorschach Test
by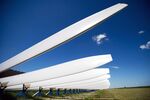 If there were to be a 2012 refreshing of Jacob Riis's seminal 1890 work How the Other Half Lives, it would have to delve into the yawning divide that now separates the fortunes of corporate America from the struggling masses. A note just put out by David Rosenberg, chief economist of investment firm Gluskin Sheff, casts this divergence in sharp, sobering relief.
"The economy," he writes, "may well have created 2.6 million jobs since the recession technically ended in June 2009 (that is rather pathetic, by the way), but 3.1 million workers signed up for disability over the time frame."
Meanwhile: "Food stamps are surging to record levels too, up some 11.3 million or 32 percent since the recession apparently ended (so we are told) back in June 2009."
And: "The jobless rate has topped the 8 percent mark now for 41 consecutive months, setting a new record for the post-WW II era."
But toward the end of his research note, Rosenberg points out that the stock market saw a record $12 billion in total dividend payout increases in the second quarter, which puts 2012 on track for an unprecedented $391 billion in total dividend income.
Indeed, this largesse comes as annual S&P 500 company profits are on pace to hit a record $107.05 a share. Since the end of 2009, the index's median quarterly earnings growth has been 25 percent, according to data compiled by Bloomberg. Many market watchers have predicted a badly needed spillover of blue chip corporate momentum into the general economy. But is the era's prevailing disillusionment now spilling over into corporate earnings?
With 25 companies having reported so far, earnings pessimism is visiting levels last seen during the thick of the global financial crisis, based on company forecasts. During the 20 days through July 9, 43 corporations issued profit projections that trailed analyst estimates—3.1 times the number of those that exceeded them, Bloomberg data show. That ratio has been at least this high for six straight days and 18 of the last 21, the most in three years. It was at least that high most of the time during the scary months from October 2008 to April 2009, reaching 11.5 in December 2008.
This quarter is the first since 2009 that analysts project S&P 500 earnings will contract.
Rorschach this data how you best see fit. Companies can be lowballing their profit estimates to wow unsuspecting Wall Street analysts with better-than-expected numbers. Or maybe Europe's debt crisis and slowing demand from China and its beneficiary emerging markets are finally hurting U.S. income statements.
James Paulsen of Wells Capital Management sees a silver lining in all the pessimism: "U.S. economic confidence is hovering in the lowest quartile of its postwar range and the U.S. stock market is about 25 percent below its trend line," he writes. "This is not a coincidence." As was the case in the late 1940s, early 1950s, and again in the '70s through the early '80s, a slow but steady revival in U.S. confidence could be the biggest driver of market performance in the next several years, according to Paulsen.
Either way, it's not like the market has been unabashedly complacent about these prospects. As is, the S&P 500 trades at a 16 percent price-earnings discount to its more than five-decade average. Should companies merely meet their annual profit targets, that discount jumps to 21 percent.
Plenty of ice-cold comfort to go around these days.
Before it's here, it's on the Bloomberg Terminal.
LEARN MORE