As Innovation Declines, ITU Hopes to Ease Mobile Patent Wars
Companies, ITU will meet in Geneva to clarify policies
Kevin C. Tofel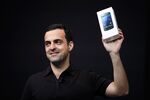 After escalating for the past two years, there could be relief in sight from the ongoing mobile patent wars. In October the International Telecommunications Union (ITU) will hold "a high-level roundtable discussion" with both standards organizations and mobile device manufacturers in hopes of removing barriers to continued mobile innovation.
According to "Mobile Business Briefing," the news service of mobile operators' trade group GSMA, discussions will focus on "reasonable and nondiscriminatory" (RAND) patent policies as well as current policy, relief and injunction entitlements, and clarification of how a royalty base should be determined. Apple, Motorola, HTC, Samsung, and Microsoft are specifically named as taking part in the Oct. 10 meeting to be held in Geneva, but I anticipate others will also be at the table: Google in particular comes to mind, given that it provides the Android platform to device makers, sells its own Nexus devices, and also owns Motorola.
While I'm happy to see the ITU step in and get involved in the growing mobile patent issues, I wish the organization had done so sooner. In December of last year, I saw no activity from the ITU or others to begin limiting such disputes and suggested that in 2012 the patent wars would get much worse as a result, saying:
The situation won't get better in 2012; it will worsen as platforms are now less disruptive and show more parity. With fewer ways to differentiate from the competition, lawsuits will multiply. However I do expect that of all the companies involved in such suits, Samsung and Apple will come to terms in 2012.
And in the first half of this year, that's exactly what happened: HTC was blocked from getting its new EVO 4G LTE to Sprint customers, for example, and, more recently, Google wasn't allowed to sell its Galaxy Nexus to customers, even though the phone launched last year.
Both issues were mitigated through a small software change, which sounds like a quick and easy fix. But in reality such supply disruptions affect carriers, device makers and, most importantly, customers. And although meant to protect those who bring new ideas to market, these legal potholes can also hold back innovation.
That thought brings to mind why I think the patent disputes have only worsened of late. Part of the reason is that organizations such as the ITU haven't yet been involved to mediate the issue, while another part pertains to patents that perhaps should never have been awarded. But the bigger reason, to my mind? We're nearing the end of the innovation cycle for current mobile devices.
That's not to say our smartphones and tablets won't get better in the coming year or two. These devices will continue to evolve with new features and form factors as hardware gets smaller and smarter in combination with improved cloud services and software. The major innovations that have created the current mobile device era — capacitive touchscreens, mobile app stores, and natural-language processing, to name a few — are the cornerstones of today's mobile device technology.
Other new features all build upon on them, and it's becoming harder for device makers to differentiate their products from each other with such small innovations. As a result, companies are relying on their intellectual property to combat one another. My hope is that the ITU succeeds in diminishing this method of fighting while also providing a framework where appropriately awarded patents are protected and customers can simply choose the best mobile product to fit their needs.
Also from GigaOM:
4 Takeaways From Google I/O (subscription required)
GroupMe Launches Group Event Planning Service
Nasuni Seeks to Unify Cloud Storage
Microsoft's Ballmer to Apple: It's On (Again)
10 Reasons Apple, Facebook & Google Chose North Carolina for Their Mega Data Centers
Before it's here, it's on the Bloomberg Terminal.
LEARN MORE