business
A New Contender in Bloody Gaming-Console Wars
By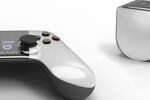 Building hardware may be back in vogue in Silicon Valley, as Bloomberg Businessweek reported last week, but that doesn't mean the heady risks associated with making actual physical technology have disappeared. And nothing has historically proven riskier, or potentially more catastrophic, than trying to design and sell your own video-game console.
Over the years, lost-to-history upstarts such as 3DO, DigiBlast, and Nokia's nGage have offered up memorable and expensive flame-outs. Creating a new kind of video-game player is the entrepreneurial equivalent of threading a needle: You've got to attract the attention of hard-core gamers, excite developers about designing for a new system, and somehow find a profitable niche in between the reigning console giants—these days Microsoft, Sony, and Nintendo (7974:JP).
The long odds haven't stopped folks from trying to break into the market with innovative approaches. Valley entrepreneur Steve Perlman has gained momentum with his game-streaming network OnLive, and Sony just acquired a similar service called Gaikai. Now we've got an additional contender, the vowel-rich startup Ouya, which today is introducing a new cube-shaped game console. It is designed by famed industrial designer Yves Behar of the Fuse Project, creator of the Jambox speaker and consultant to the likes of Herman Miller and Prada (1913:HK).
Ouya aims to introduce a small, silver-brushed cube that plugs into your television and offers a variety of free-to-try video games over the Internet. The hand-held controller has a touchpad, enabling a new type of game play, and the console runs Android 4.0 and is open to hackers, who can mess with its innards and offer their own tweaks. The company also plans to offer developers' kits so that any developer can create and distribute games for the service, without passing through a gauntlet of approvals. Another selling point is the price: its backers say an Ouya will cost under $100, vs. more than $250 for a PS3 or an Xbox.
That, at least, is the vision. Ouya, which has about 10 employees based in Los Angeles and San Francisco, has raised an early round of seed money from angel investors like Joe Greenstein, founder of Flixster, and Hosain Rahman, founder of Jawbone. Today, Ouya is launching a campaign on the crowd funding site Kickstarter and hoping to raise an additional $950,000 to complete development of the product. The startup had attempted to raise money from venture capitalists but "they still want to see us get a little farther along with both product and with consumers," says Julie Uhrman, Ouya's chief executive officer, a veteran executive of game rental company GameFly and gaming web site IGN.
As the VC reticence suggests, Uhrman and her crew will have their work cut out for them. Not only do Sony, Microsoft, and Nintendo dominate the market, but mobile operating systems such as iOS and Android, once confined to the land of mobile phones and tablets, are almost certainly coming to the TV soon. At that point, couch potatoes will be able to order up Angry Birds or other mobile games on their large screen TV—and may have no reason to go buy another gaming console.
Uhrman believes there's still an opporutunity. "We don't think that consoles are dead," she says. "We just think it's time to rethink the way that companies that make consoles do business."
Before it's here, it's on the Bloomberg Terminal.
LEARN MORE