business
A Day in the Life: Sustainability Manager
Kate Abbott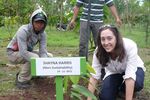 "A Day in the Life" is an ongoing series that highlights popular post-MBA job functions, as seen through the eyes of the recent grads in the positions.
How does a chocolate sustainability program operate? To find out, Bloomberg Businessweek's Kate Abbott spoke to Shayna Harris, a 2011 MIT Sloan MBA grad, who is currently the cocoa sustainability manager for Mars Global Chocolate. Harris says the program works with the cocoa industry, nonprofit organizations, and the government to help farmers boost their productivity and the quality of their cocoa. She helps coordinate a global management team that oversees all of this. "It's a pretty new field for MBAs to go into," she says.
Harris's professional focus has always been on international development: She once worked on a trade an agriculture team for Oxfam America that focused on coffee sustainability. Harris holds an undergraduate degree from Boston University and traveled to Brazil on a Fulbright scholarship to study the impact of market programs on farmers. She entered business school through the lens of "putting out top-notch products but with the farmer in view."
Mars's headquarters is located in Mount Olive, N.J., but the sustainability program takes Harris around the world. Here's what a day in the stateside office looks like, in her own words:
6:00–6:45 a.m. I get up early. I live in New York City and commute out to New Jersey. I carpool with colleagues, and we try to be on the road by 6:45 a.m. We listen to NPR on the way to work.
7:45-8:00 a.m. I grab breakfast and coffee. Early morning conference calls are common because the team is so global. Each call is facilitating conversations about Mars' programs: It could be with the development program Vision for Change on the Ivory Coast, a geneticist, or field operation specialists.
10:00 a.m. I look at e-mails for the day and respond to anything urgent. Then I organize my day around a weekly work plan—there's a couple of key of projects I need to advance and check in on.
11:00 a.m. I check in on key programs—maybe talk to someone on the field staff in Indonesia—and have a staff meeting.
12:00 p.m. I take lunch. There's a pond outside the office that I like to walk around with colleagues.
1:00 p.m. I check in with my boss about projects coming up—could be a policy or issue. There's a bunch of actions that come out of that meeting that take up my afternoon.
3:00-4:00 p.m. I facilitate a budget meeting to check in on our program goals vs. implementation.
5:30 p.m. The car pool group meets up to leave the office.
7:00 p.m. When I get home, I try to go for a run in Central Park. Then I eat dinner.
9:00 p.m. I check up on e-mail and follow up on projects. Every day is very different. It's very much an operational role, and we're trying to realize what the teams' needs are in order to achieve our goals in the field offices.
Before it's here, it's on the Bloomberg Terminal.
LEARN MORE