Pay-As-You-Drive Insurance Gets a Push From Progressive
Meghan Walsh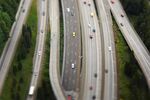 Usage-based auto insurance plans have been around for a decade. But because drivers are wary of letting insurance companies track their driving patterns, adoption has been slow. Now insurance company executives say they're amassing enough data to refine the formula for calculating risk—aka rates. The result is that plans are becoming more widely available, say industry experts. "This is coming," says Robin Harbage, director of the consulting firm Towers Watson. "And it's coming rapidly."
Progressive announced Monday that anyone, regardless of their insurance carrier, will be able to test its pay-as-you-drive option, called Snapshot, at no cost. Participants will receive a monitoring device smaller than the size of a computer mouse that plugs into the dashboard. It tracks when and how far you drive and how often or hard you brake. You can check the data online. At the end of the 30-day trial, Progressive uses the information to calculate a quote.
For responsible drivers, that could translate to a discount of up to 30 percent. For those who then choose to sign up for a plan, the device stays in your vehicle for another six months, at which point your quote will be set again. Progressive says 70 percent of people who try the plan receive discounts. But even those who don't qualify won't see their prices go up.
Those who are least likely to score a discount travel the most miles, drive during rush hour, and brake aggressively. On the other end of the spectrum are people like my boyfriend, who lives and works in a town of 3,000 people where the speed limit tops out at 35 mph and everything is huddled within a 5-mile radius. He signed up for Snapshot earlier this year and earned a 27 percent discount, or $18 a month.
Insurance carriers have traditionally evaluated risk based on criteria such as age, gender, marital status, and vehicle type. Progressive—which says it has analyzed 5 billion miles of driving under its plan—and others that sell usage-based policies contend that driving patterns are a more accurate tool for forecasting accidents and that as a result, cautious drivers are subsidizing dangerous drivers.
Harbage says eight of the top 10 insurance agencies now offer a usage-based plan. Still, the concept has been slow to evolve. Insurance executives say that once customers try pay-as-you-drive, they stick with it. But some drivers are skeptical. Progressive itself says 30 percent of people are averse to having a device monitoring them, even though its device doesn't use GPS tracking.
There are other hurdles. The technology is expensive and companies up to now haven't had enough data to accurately set prices. Towers Watson is one of several professional development firms working to create an industry standard, a laborious process that involves collecting hordes of information and then distilling it.
Allstate joined the market with its own product, Drive Wise, in December 2010. Allstate rewards clients with a one-time 10 percent discount just for trying it. "If a customer says, 'I'm a good driver,' now they have a tool to prove it," Drive Wise General Manager Nate Bryer says.
Harbage says new customers will be attracted by additional services that are becoming possible as data collection improves. With geo-fencing, parents can set virtual boundaries for their teenagers and then check to see if the car travels outside the designated area. Or they can set up alerts through the data collection device to get a text message if the car goes above a certain speed.
If the plans do catch on, there could be broad societal benefits. A Brookings Institution study (PDF) found that if all drivers adopted usage-based plans, two out of three households would save about $270 per car. The plans' incentives to drive less would result in an 8 percent decline in mileage, Brookings said, as well as an annual savings of $52 billion from reduced traffic, oil consumption, and pollution. Harbage predicts that within three years, 10 percent of the population will have usage-based plans, which he says would drop the accident rate by 2 percent. "The effect starts to compound itself," he says.
Before it's here, it's on the Bloomberg Terminal.
LEARN MORE