Fair Britain on His Shoulders
by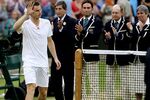 [Murray] added: "I'd be playing I guess probably the wrong sport if I wasn't emotional. I mean, I thought I played a pretty good match. A lot of close shots, a lot of close games, a lot of break points here and there. He played very, very well the last two sets especially. When the roof closed he played unbelievable tennis."
—Evening Times, Scotland, "BREAK POINT FOR ANDY, Scot Will Continue Glory Bid after Rest," 9 July 2012 02:57 p.m.
Little Britain.
No, not the defining comedy of David Walliams and Matt Lucas rather, that the United Kingdom in each and every way is different than we of the New World.
My recollection is Walt Disney was an abject failure in the distant century until he figured out that what "America" needed, needed, was a given fairy tale of England, Scotland, and or Wales, with the occasional digression to the Continent.
Little, and fair, Britain gave us, and has always given us, a touchstone to fall back on. ("Us" being the immodest debris of those who sailed on the Mayflower or the 142 following barques.)
Federer of Switzerland and Murray of Dunblane Scotland, FK15, transcended sport on Sunday. I cannot find an equivalent in my memory. (Richard et Les Canadiens?)
One thing is certain. We should kill for the continued grace of these two. Federer reaffirmed. Andy Murray simply carried fair Britain on his shoulders. Discuss.
Before it's here, it's on the Bloomberg Terminal.
LEARN MORE