Chef Ricardo Zarate's Office Bag Lunch
by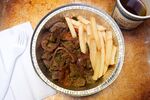 One of Food & Wine's best new chefs in 2011, Ricardo Zarate brought Peruvian food new fans. This year, his restaurant Picca, which opened a year ago, was named one of GQ's best new restaurants in America and also one of Condé Nast Traveler's Hot Tables. His fancy food-court eatery Mo-Chica in Los Angeles, launched in 2009, reopened in a new location in early June as a sit-down restaurant.
Zarate shares his recipe for lomo saltado, a traditional Peruvian beef dish with Asian influences such as ginger and soy. "I'm from Lima, so it's one of the first dishes you learn in your house," says the chef, who grew up with 12 brothers and sisters. "This is something I learned from my mom. I've twisted [the recipe] a little bit." It's a great office bag lunch, he says, because "it's a really fast dish."
Ingredients:
4 oz. beef fillet, cut in cubes
1 oz. red onion, cut in thick slices
1 oz. tomato, cut in thick slices
0.25 oz. cilantro leaves, chopped
0.25 oz. green onion, finely chopped
Vegetable oil
Ground black pepper & salt to taste
For lomo saltado salsa:
3 oz. red wine vinegar
2 oz. fresh ginger, grated
2 oz. fresh garlic, grated
0.2 oz. ground black pepper
1 oz. soy sauce
0.5 oz. aji amarillo puree
Instructions:
For the salsa: Mix all salsa ingredients in a bowl.
For the beef: Add 2 tbs. of oil to a hot frying pan and sear the beef with a pinch of salt and pepper. Place aside.
Add oil to a hot, clean frying pan and toss the onion for a minute with medium heat.
Add the beef and tomato, season with salt and pepper. Sauté for a minute, then add some of the lomo saltado salsa as juicy as you desire and mix for another minute.
Sprinkle some cilantro and green onion, mix all together for a few seconds, and take off heat.
Serve with fries.
Before it's here, it's on the Bloomberg Terminal.
LEARN MORE