College Grads Find Retail a (Meager) Route to Job Market
Michael Dolgow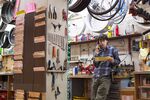 For college graduates, it seems almost as if 30 is the new 10. Over-educated, underemployed, and disgruntled, many grads saddled by debt are waiting—often in their parents' homes—for a chance to break into a career in the field they studied.
Students with advanced degrees have been unable to find jobs consistent with their skill set, leading to a heavy influx of overqualified young people in retail positions that typically require no more than a high school diploma. Almost 30 percent of 25-to-29-year-old college graduates now work in occupations that do not require higher education, while for those aged 20 to 24, the figure is over 39 percent.
"I'm here to start off, but I don't plan to do this forever," says Francesca McErath, 26, who sells cosmetics at Bloomingdale's on the East Side of Manhattan. She has a master's degree in social work from New York University, but was forced to change her career course after completing the program in 2010, due to the difficult job market. "I had a complete switch and went into cosmetics, which was my original field, and now I intend to move up the ladder through retail," she explained last week as she stood on the store's bustling second floor.
The U.S. labor market, with an 8.2 percent unemployment rate, is producing jobs at a paltry pace. In June only 80,000 new jobs were created, the government reported on July 6. For some young people, the collateral effects of a deferred career start are many: delayed marriages and children; first homes that are not bought, reduced spending power, and anxiety over unpaid student loans. While many cling to the notion that job prospects will improve with time, a few may start to wonder if the search for a "real job" will ever resume.
The expectations held until recently by many young professionals have not gone unnoticed by large trade organizations and regulators. The American Bar Association proposed a rule change in March that would alter how law schools report employment numbers for alumni. That proposal came the same month a New York state judge dismissed a lawsuit filed by nine law school graduates who said their alma mater had misled them about their employment prospects. The ABA would require that the data presented to the public reflect only stable placement and not include brief, post-graduate fellowships that expire within months, when school funding runs out—a technique some had characterized as a tool that distorted the job market potential. Under the new metric, only 55 percent of the members of the 2011 U.S. graduating class found long-term positions.
The reluctance of many companies to hire has proved helpful to many retailers. "It's good for me from a certain perspective, but unfortunately it's very bad for them," says Val Marcone, who has managed CVS Caremark pharmacies in Queens for the past 13 years. "You really feel for these people. We had a lot of people—engineers, students just of out school with their Master's and PhDs—and they can't find anything in their field, so they come to retail and they're willing to work for minimum wage."
Not everyone agrees. Daisy Joseph, 26, believes the experience she's accumulating on the sales floor of a Manhattan Victoria's Secret will prove valuable if and when she has an opportunity to transfer to the corporate side of the business. "I think this is a different venue than I anticipated when I entered school," says Joseph, who graduated from Rutgers in 2008 with a degree in economics. "But I do believe that retail opens avenues for you in ways that are unexpected."
That sentiment is echoed by Delon Harry, 30, who sells Chanel products in New York. After graduating from City College in 2009 with a major in business management, followed by a stint with publisher McGraw-Hill, he decided there was greater financial upside working in retail. "Everyone thinks we're paid minimum wage, but this is not true at all," Harry says.
He credits his education with career advancement. "I'm much better able to articulate why the products should be purchased and to communicate with customers," he said. "But it's not as easy as it seems. Now that there are so many people all around doing the same thing with advanced degrees, it's very competitive."
A walk through various retail outlets in New York, stocked with young graduates, reveals a common theme: Most grads worry about their ability to move into better-paying positions in the fields they had focused upon as students.
"I'm worried that I'll get stuck" at an entry-level position, says McErath, at Bloomingdale's. "A lot of people with advanced degrees had to go into retail now, with the economy in such a bad state, but people shouldn't give up on their original goal." Marcone, the CVS manager, recognizes the limitations of today's economy—and the perception that the jobs market may not improve much in the near term. She notes that one field is relatively safe: "In retail, you'll always have a job."
Before it's here, it's on the Bloomberg Terminal.
LEARN MORE