The 'Portlandia' Bump: Oregon's Thriving Film Scene
By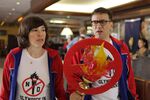 The city of Portland is on a roll. This summer, Oregon's hipster-locavore mecca has three major TV shows filming at the same time: IFC's Portlandia, TNT's Leverage, and NBC's Grimm. The state's film, television, and TV commercial production industry has been expanding in recent years; from 2009 to 2011 it grew from $62 million to $130 million. Even the first Twilight movie was shot there. Vince Porter, executive director of the Governor's Office of Film and Television spoke to Bloomberg Businessweek about the reasons behind his state's entertainment boom.
What's with all the TV shows set in Portland these days?
We've just been really lucky. Usually, if you have three TV series going on at the same time, you can expect to have one of them get canceled. But with these shows, not only are they not getting canceled, they're all talking about filming more episodes over multiple years. Last year was the first time that we had Leverage, Grimm, and Portlandia all at once. We didn't think it would happen again, but it did. And this summer, their film schedules are shooting simultaneously
What happened? Did you increase your tax incentives or something?
We did, but that was back in 2005. We offer a 20 percent rebate on Oregon-based goods and services and a 16 percent credit on labor expenses, but that's actually pretty modest when you compare it to programs offered by states like Louisiana and Georgia [which offer a tax credit of up to 30 percent]. I think it's that we've focused our competition on specific types of projects that make the most sense to film here.
What would those be?
Two types: television series and animation. Our incentive program makes it difficult to go after the big blockbuster films like The Avengers that are going to spend a lot of money. Most feature film production takes three to four months to produce, then everyone goes on to the next project, which means they can look at a lot of different places and go with the biggest tax break. But on TV series, the cast and production crew have to commit to being in a place for four to five years. They actually have to live somewhere. Our close proximity to Los Angeles makes traveling for post-production [often done in LA] easy. And by and large, most people are O.K. with the idea of living in Portland for a few years.
We also have more animation here than you would think. It's been a strong center of talent and a lot of that has to do with Laika, the animation studio that produced the film Coraline. Their next film ParaNorman comes out in August and was also done here.  They're already on to their third film that has not been named yet.
How do these projects impact Oregon's small businesses?
Our office has been digging up info on this summer's film and TV production use of the local supply chain. We've found a number of local small businesses that are successfully competing for work with the major production companies. Last season, Grimm engaged with over 1,00 vendors in the state of Oregon. By and large those were clustered in the Portland area, but it did stretch down south to Corvalis, where an animal trainer there did all training for the show. There are a lot of crew members and resources from southern Oregon that come up to Portland to work on the show.
My favorite story so far is of this place called 52nd Ave. Hardware & Building Supply in Portland that has come to supply a large portion of the industry—about 30 to 40 vendors—with props and sets. The producers realized that if the script changes and they suddenly need to build a new set, they can go to 52nd Ave. and have it the next day. There's also an industrial cable and lighting company in Bend, Ore., that has added seven people to its payroll and kept them just because of these shows.
What about Portlandia, which always makes great use of the city in which it films?
Portlandia is a bit different, compared to the other shows. Its production budget is much smaller, so it doesn't spend as much money with local businesses. But the awareness of the show has been overwhelming. We get contacted by international outlets about it all the time, and I know the producers do as well. If you're talking about the shows in terms of how much web traction they get and how many times they're written up in the New York Times, there's no comparison.
So businesses don't mind being on Portlandia, even though they're probably going to be made fun of?
There was definitely some hesitation the first year among some business people about having their stores on the show. But when everyone realized that Portlandia was garnering national and international attention, they decided it was good to have a sense of humor about themselves. The mayor of Portland even did an Emmy campaign for IFC called "Put an Emmy on It" that included a map of some of the places that have appeared on the show.
Like what, the feminist bookstore?
Yep, that's on there.
Wait, really? I was just kidding. I thought that place was made up.
Oh, no. The feminist bookstore is very real.
Before it's here, it's on the Bloomberg Terminal.
LEARN MORE