HTC Profit Hammered as Rivals Grab Further Market Share
By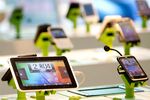 Is another smartphone icon about to join Research In Motion's death spiral? Taiwan's HTC was the first company to make an Android phone and leveraged its head start to become a major brand in the U.S. and other markets. But like the maker of the BlackBerry, HTC is struggling to compete against a double whammy of pressure from Apple and Samsung Electronics at the high end of the market and low-cost Chinese newcomers at the low end.
HTC's slide has been steep. Only a year ago, the Taoyuan (Taiwan) company was nearly tied with Samsung Electronics as the premier maker of non-Apple smartphones. In the first quarter of 2011, HTC shipped 9 million handsets, close to archrival Samsung's 11 million. A year later, with HTC suffering because of disappointing models and Apple's patent-infringement lawsuits, the Taiwanese company was shipping just 6.8 million phones and the Koreans were selling 44 million.
The latest blow came with HTC's announcement on Friday of its second-quarter earnings. Profit plunged 58 percent year on year, to $247 million, on sales of $3 billion. As if that weren't bad enough, the news came on the same day as Samsung announced quarterly operating profit of $5.89 billion, a 79 percent jump over the same quarter in 2011.
There is some hope for HTC in China, where the company has introduced new models for the world's largest cell phone market. HTC's Chinese market share was a modest 4.8 percent in May, but that's up from 2.7 percent in the first quarter.
In the U.S., where according to comScore HTC is No. 5 with 6 percent of the market, HTC Chief Executive Peter Chou is betting the company's decision last year to take a controlling stake in headphone maker Beats Electronics will give HTC a way to differentiate itself from Apple and Samsung. On July 2, Beats announced the acquisition of MOG, an online music service. Focusing on music will allow HTC to offer a "unique and differentiated and awesome" experience, Chou told Bloomberg Businessweek in a March interview. "We see an opportunity that we can do something on smartphones to make the music experience so unique, differentiated, and awesome and create an emotional connection with users."
Making further gains won't be easy for HTC. Unlike Samsung, which for years aimed to have phones for every price point, HTC traditionally tried to avoid competing against low-cost Chinese brands such as Huawei and ZTE. That has changed, and HTC is now focusing more on low-cost phones. Meanwhile, Chinese rivals are becoming more aggressive at home as well as in the U.S. and other markets. ZTE, for instance, has started selling phones in Wal-Mart, RadioShack, and Best Buy and working with such carriers as AT&T, Verizon, and Sprint Nextel to co-brand phones for American consumers. ZTE now has 4.8 percent of the market, according to Lixin Cheng, chief executive of ZTE USA. The Chinese company is aiming to reach 10 percent "probably in another two to three years," he says.
Without mentioning HTC by name, Cheng says ZTE isn't going to follow its model of going head to head against Apple. "Our competitor's experience helps us to validate our strategy," he says. "Our mission is providing high-quality, high-tech devices that [are] more affordable to the mass market."
Before it's here, it's on the Bloomberg Terminal.
LEARN MORE