How David Einhorn Was Out-Bluffed at the Poker Table
Paul Wachter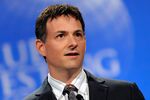 On Tuesday evening, Greenlight Capital founder David Einhorn was sitting at the final table of what's been billed as the richest poker tournament in history, a three-day World Series of Poker No Limit Hold 'Em event in Las Vegas. The contest featured 48 players, who each ponied up $1 million for the privilege.
Einhorn has amassed a fortune calling others' bluffs, like when he bet against the rosy pronouncements of Allied Capital, Lehman Brothers, and, more recently, Green Mountain Coffee Roasters. For much of the night, he had played conservatively, folding often and betting only when he had the surest of hands. But then, in the 53rd hand of the game, he directly challenged Antonio Esfandiari, a professional poker player.
In the rules of Texas Hold 'Em, five community cards are placed face-up and each player is dealt two cards, face-down. The players combine their two cards with any three of the five upturned cards to create the best hand possible.
Three spades were on the table. When a fourth spade was dealt, Einhorn bet $2.2 million—he was on track for a flush. Esfandiari called. When the final card, a five of hearts, was dealt, Einhorn backed off and checked. Esfandiari bet $4.7 million and Einhorn folded. When the players turned over their cards, it turned out that Einhorn had the better hand—a pair of tens. He had been out-bluffed.
Einhorn has said his approach to poker resembles his approach to investing: He doesn't play a lot of hands. When "the situation feels right, I put in a big, aggressive raise with a marginal holding," he said in a 2006 speech. "It is very hard to describe how I know the 'feel,' and sometimes I get it completely wrong. But to do well in a poker tournament, you have to recognize a few non-traditional opportunities and you need to get people to sometimes fold the better hand. I think we invest similarly. By this, I mean that most of our investing lines up nicely in the disciplined, traditional value camp—very low multiples of book value, revenues, earnings, etc., but occasionally we are opportunistic and invest in situations that are difficult to justify under traditional criteria."
After bowing out of the tournament, Einhorn said, "It was fun." He finished at a very respectable third place (winning $4.35 million he plans to donate to charity), which was a considerable improvement from his 18th-place showing at the 2006 WSOP event that paid out $666,666. Esfandiari went on to win the $18.35 million first prize, beating out fellow professional Sam Trickett. Both men had amassed sizable stacks in the early stages of the game, so it was unlikely Einhorn—or even a professional player in his position—would have been a threat for the top prize. Overall, he played his cards shrewdly. As he said in his famous 2002 speech at an investor's conference, during which he meticulously laid out the reasons why he was shorting Allied Capital: "In our business, luck has a lot to do with things, but so do good tactics."
Before it's here, it's on the Bloomberg Terminal.
LEARN MORE